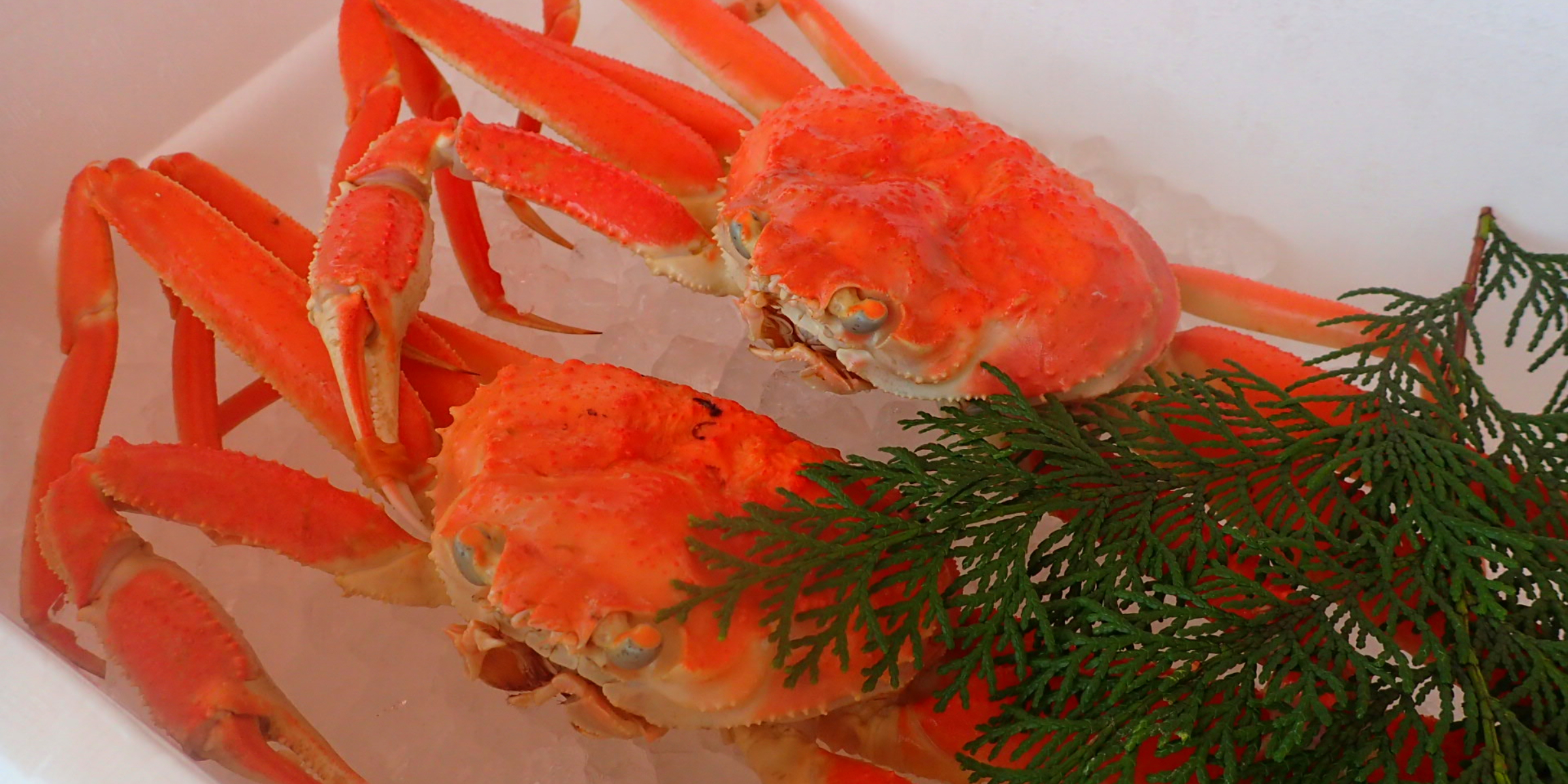 ONSEN · Gastronomy Walking at the Hawai Onsen in Yurihama-cho
Here we go!  Today I shall devour Tottori's delicious offerings to the heart's content!  Spirits were high.
The location is Yurihama in Tottori Prefecture, a new town born out of a merger in 2004.  The name is derived from a combination of the town's features of "onsen (yu)", "Twentieth century nashi pears (ri)" and "sandy beach (hama)."  The imagination starts humming just with this evocative name.
In addition to the legend of a celestial maiden falling from the sky, this well-developed town boasts easy walking courses as a "Walking Resort."
And above all else, Lake Togo is surrounded by the famous Hawai and Togo Onsens—that's right, Japan's Hawaii!
The alluring town is a 40-minute drive from Tottori Airport.
This walking course is about nine kilometers around the scenic Lake Togo, a little shortcut from the full 12 kilometer loop.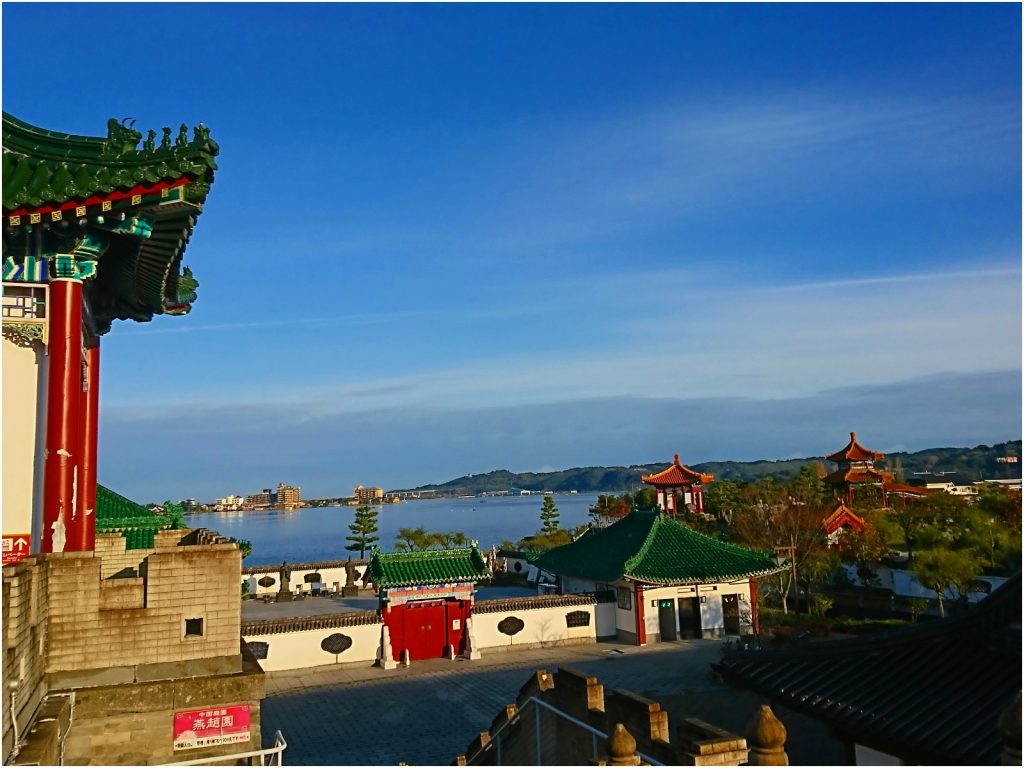 Crystal blue skies!  Wait, where is this?  Are we still in Japan?
We gathered at "Enchoen," a Chinese-style garden under the theme of China's imperial forest parks (the Emperor's gardens).  This is one of the largest Chinese gardens in Japan.
Both Hawaii and China—this international town of Yurihama has it all.
The pre-walk ceremony also featured Chinese and Hawaiian elements.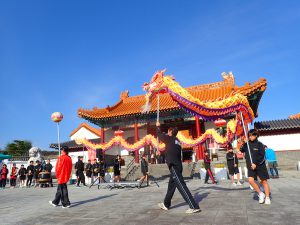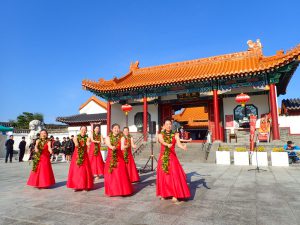 Participants also received "Taihei-yaki" sake cups when checking in.  This course also offers a variety of delicious local Japanese sakes, and I for one intend on drinking my fill with my new sake cup.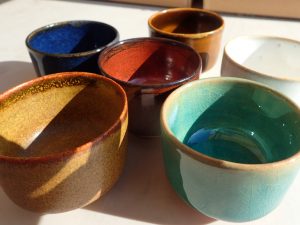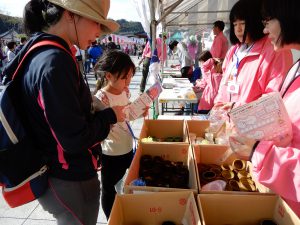 Everyone examines carefully before choosing from the six color options!  I went with purple.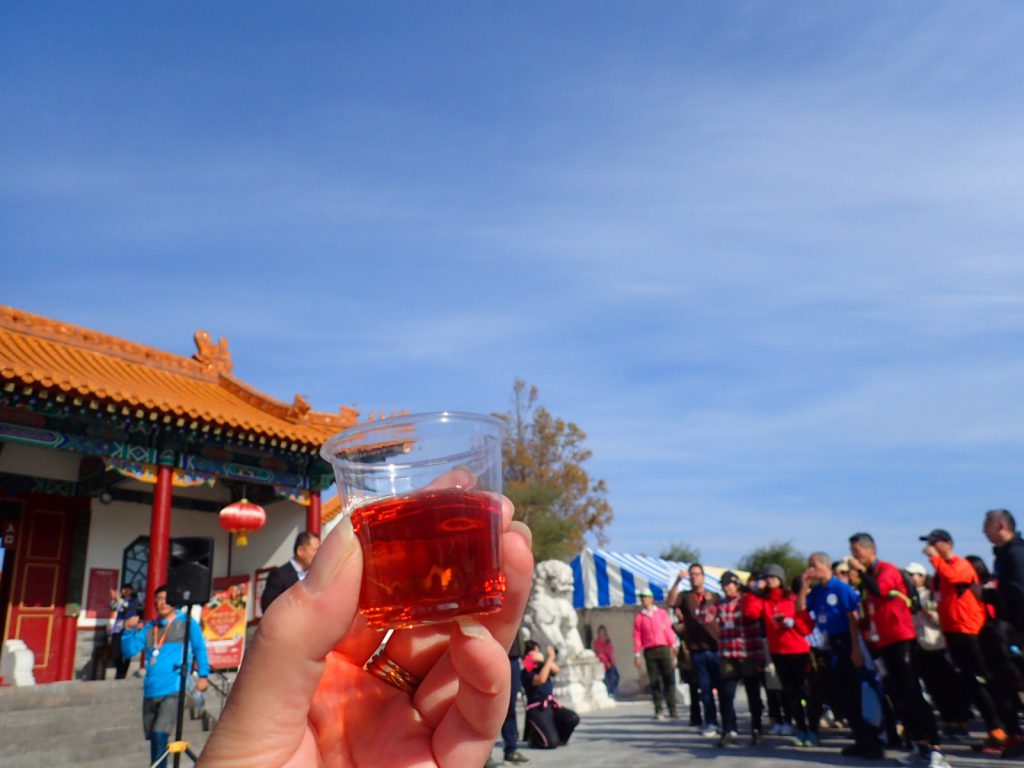 Juice and wine were passed out to all.  "Cheers!  Sound the battle cry!  Ahem, I mean, and we're off!"
First up is a "tour boat" or "pick-up bus" to reach the starting point for the walk.
Gliding across the lake in a tour boat sounds great, but you have to reserve a seat, and with limited capacity the boat quickly filled up.  I took the bus, and with the lake in view it ended up being a comfy ride.  Some on board even had strollers!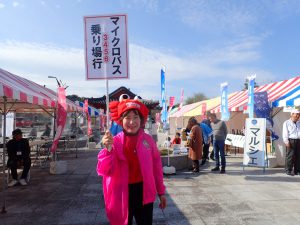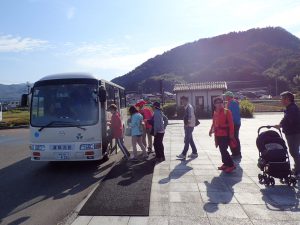 Starting Point @ the Hawai Onsen/Togo Onsen Tour Center
After about ten bumpy minutes on the bus, we alighted to a savory spread!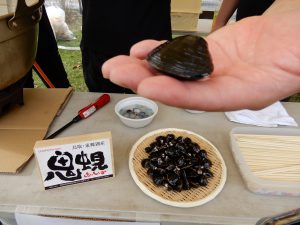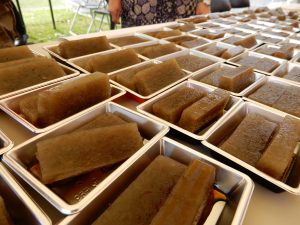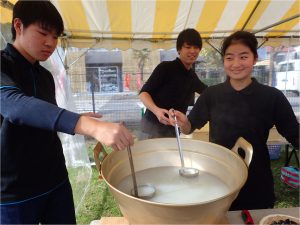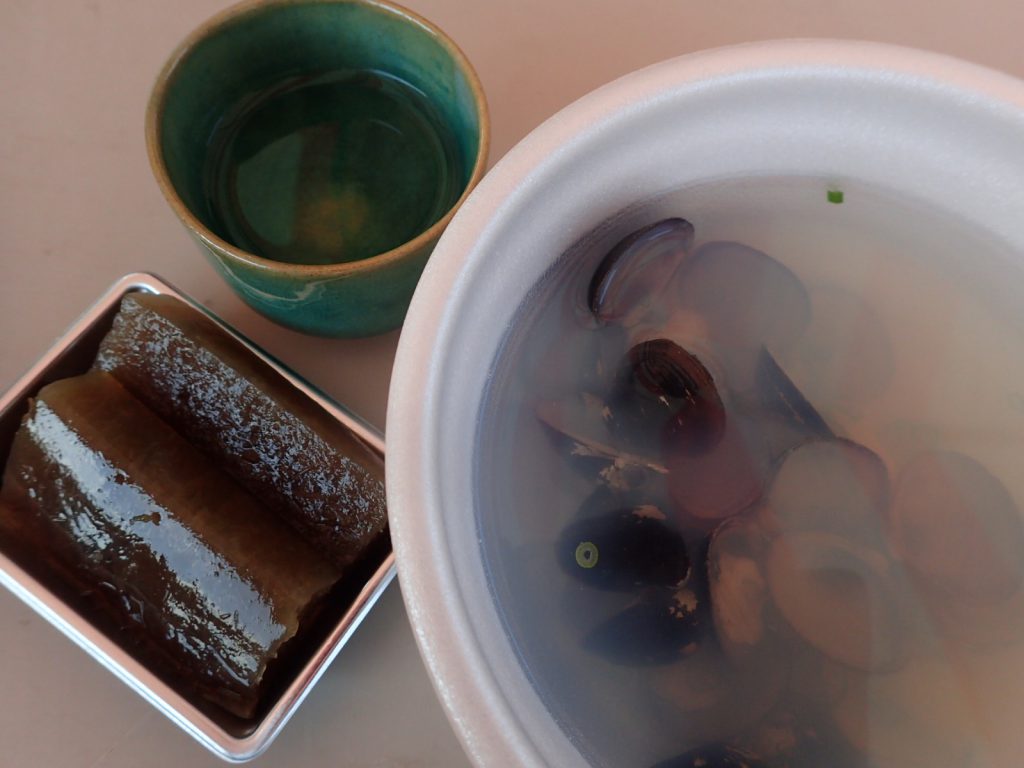 This is Yurihama Gastronomy at its finest.
"Lake Togo Oni Shijimi Clam Soup."  What enormous shijimi clams!  Bigger than short-necked clams, perhaps about the size of a hamaguri clam?  The reputation as Japan's largest clam is well deserved.  Flavorful juices from the shijimi clams dissolve into the clear soup.
And then there is the "igisu," which I had never heard of.  Igisu is made by boiling and dissolving, and then congealing, seaweed.  I enjoyed this with a sprinkle of "Ryori jiman" soy sauce, a local specialty.  How healthy!  And a perfect complement to sake.
Yes indeed, the sake preparations were of course perfect.  Here we had a taste of "Gensui," a local sake made in Kurayoshi, Tottori.  This masterpiece of the chief brewer is the highest grade ginjo, and was awarded the Governor's Prize by the Tottori Research Institute of Brewing.  Drinking under the blue morning skies—the best!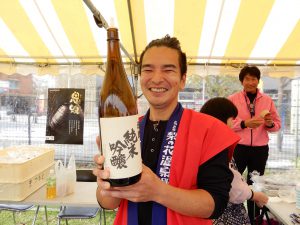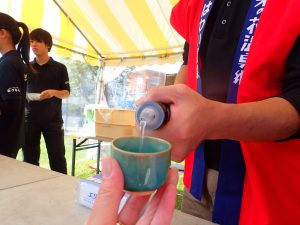 Full enjoyment, full steam ahead!  Fun levels were already elevated and we hadn't even started the walk.
A ceremonial picture in front of the "START" flag before being seen off with kind smiles from the lady in charge of the Hawai Onsen ryokan (hotel).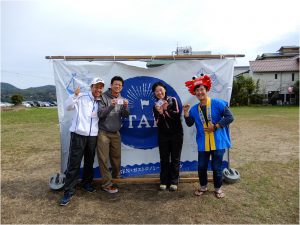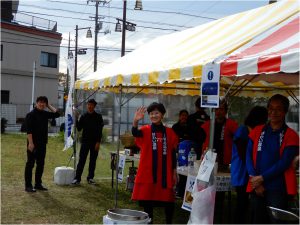 This course runs counter clockwise around Lake Togo; we walked with the lake on our left.  Sunburn worries soon evaporated as light clouds began to cover the clear morning skies.  Perfect conditions for walking.  It's so warm!  Palm trees evoke images of lands further south.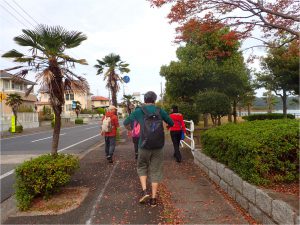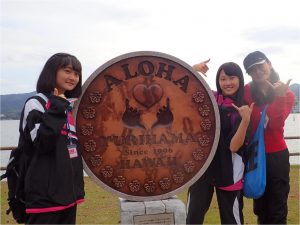 We followed the arrows in a lakeside park to an "Aloha Monument."  I almost forgot, this is Japan's Hawaii!  Snapshot with a photogenic and chummy mother and daughter.
[This monument commemorates the friendship with Hawaii County in the U.S. State of Hawaii.   The word "aloha" is an expression of a mutual bond and connection.  It is said that the love between man and woman is fulfilled here, making this a popular spot for many couples.]
Love is fulfilled… how lovely.  I'll have to bring a special someone with me next time.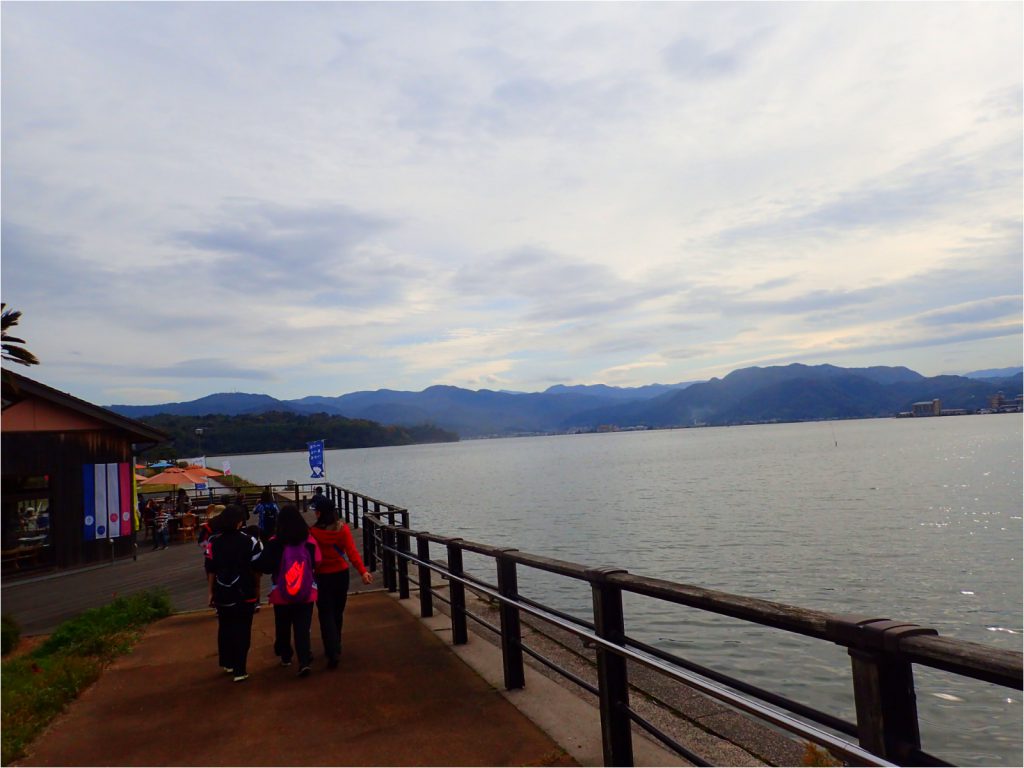 Gastronomy Point @ Cafe ippo
With hearts full of Hawaii, onward!
Next up: Cafe ippo, where you can enjoy a gourmet lunch with a view of the lake.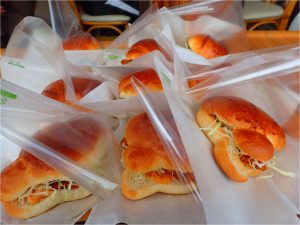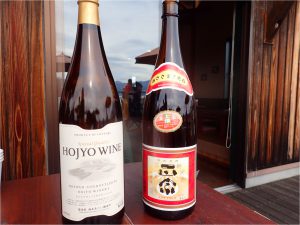 I had the "Shell Fish Burger."  This original burger consists of fried local dolphinfish—called "mahi-mahi" in the Hawaiian language—in a shell-shaped bun.  The beverage options were "Misasa Masamune", a sake brewed in the town of Misasa, and "Hojo White Wine" from the town of Hokuei.  Since we were having burgers I went with white wine, a delightful choice!  The spectacular location only augments the flavor.  Inside dining is available, but you can't beat sitting outside on the terrace with Lake Togo on full display.
We forgot about the walking for a spell and enjoyed leisurely dining.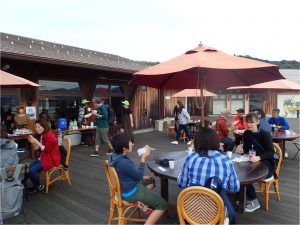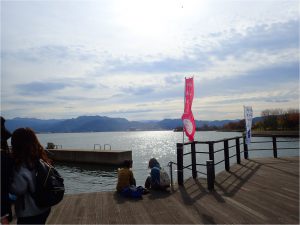 After a sublime lunch it was time to resume walking against the backdrop of the sparkling Lake Togo.  I felt like I could walk forever.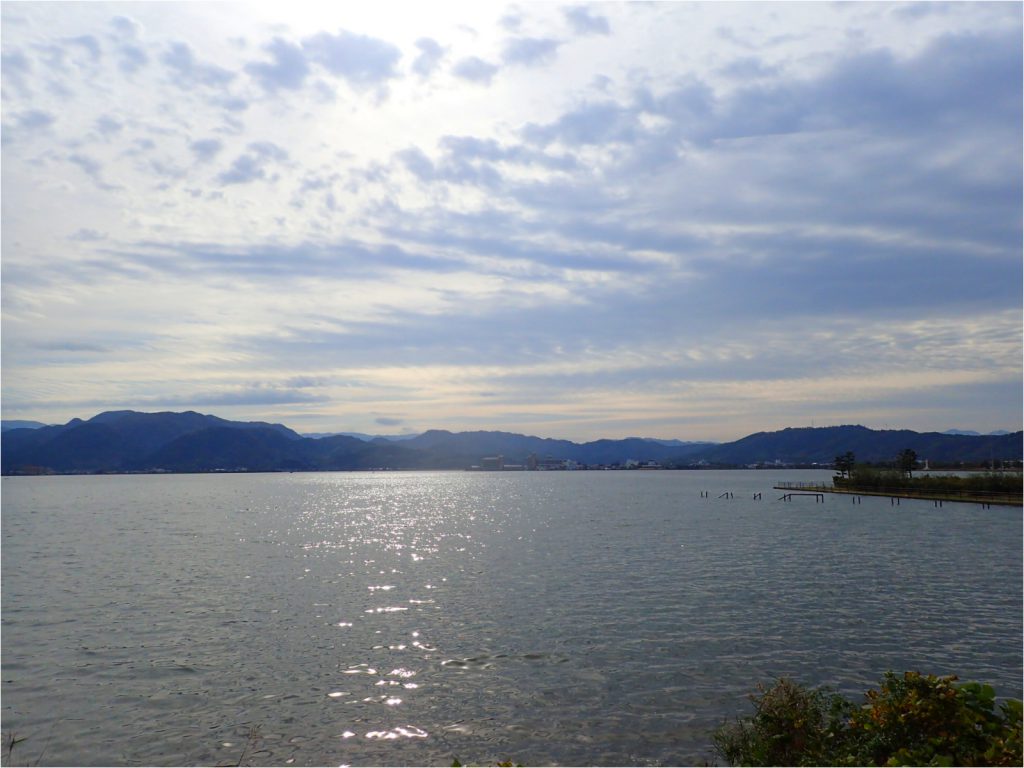 From here the path gently sloped upward, and along the way we came to the "Miyado Benten" grounds.
[Said to be the female representative of all human beauty, Benten was popular largely due to her blessings of wisdom, longevity and prosperous wealth. There is also a legend passed down which tells of the white snake messenger Princess Shitateru, who resided in the Shitori Shrine."  Apparently this is a "power spot" that is particularly popular among women.
I guess I'd better pay my respects, too.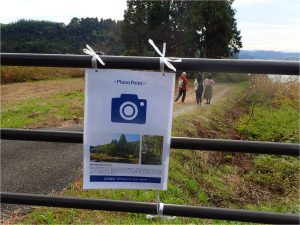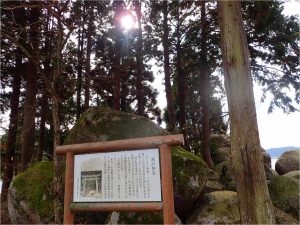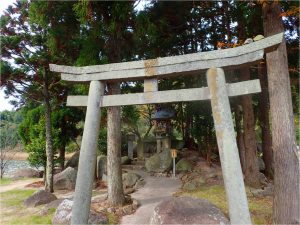 Gastronomy Point @ Izumoyama Observation Deck
After huffing and puffing up the only hill on the course, we reached the observation deck to the savory smells of grilled meat!  Oh, the sweet background music of meat sizzling on the grill.  Before taking in the deck views, it was time to greet the meat.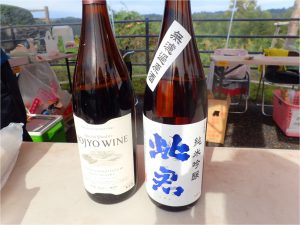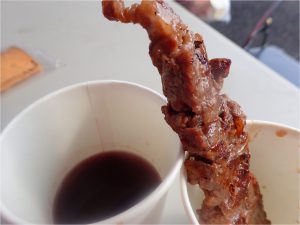 On offer was "Tottori wagyu" grilled on skewers. This wagyu was awarded highest quality at the "11th Wagyu Olympics" and is currently regarded as the top grade beef in Japan.  The skewers were accompanied by "Shi-kun," a safe brewed in Kurayoshi City, and "Hojo Red Wine" from the town of Hokuei.  I went with the red wine, the reliable companion of beef.
After lunch it was time for viewing from the observation deck.
[Once upon a time, Shitateruhime-no-mikoto, daughter of Okuninushi-no-mikoto, landed here on a boat from Izumo, and came to reside in the Shitori Shrine.  It is said that she gazed from this plateau, longing for her Izumo homeland.  Those who saw her came to call this Itsushiki Izumosan.]
What a sad story.  From this spot she yearned for her home, far away.  But today… today is the day for the boisterous "loud voice contest"!  Contestants shout from the observation deck toward Lake Togo, competing for the highest measured volume.
A great way to let off some steam!  Everyone seized the opportunity to merrily shout gibberish.
Participants even received an "Oniyome senbei" (rice crackers).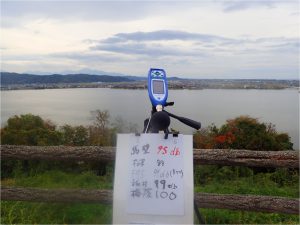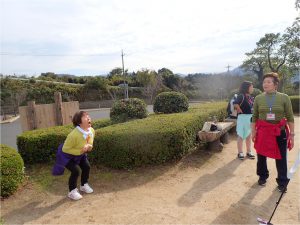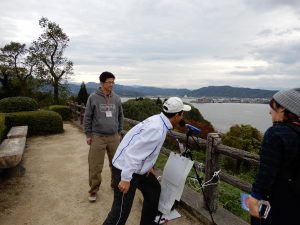 Fully refreshed, we moved onward while gazing down on the mysterious Lake Togo.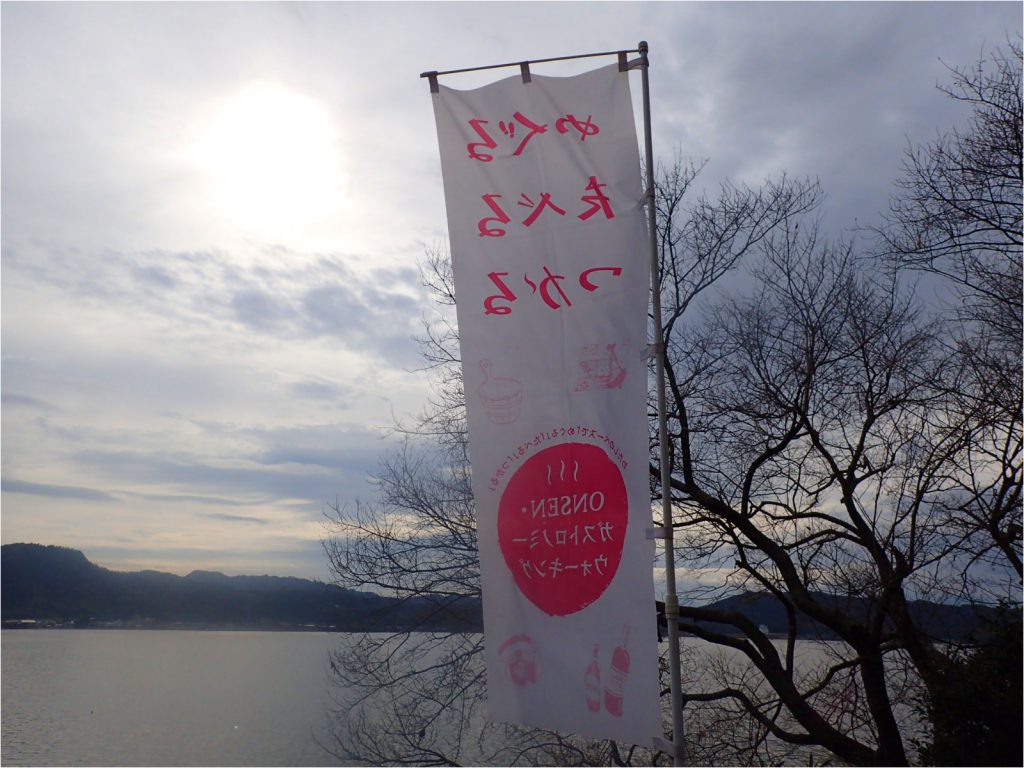 Gastronomy Point @ Ayame Ike (Lake Togo Hawai Lakeside Park)
We were greeted with more fun at the next "Activity Point": "Ground Golf"!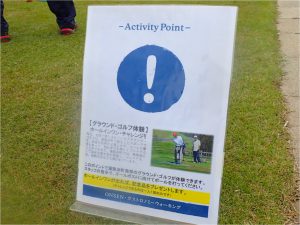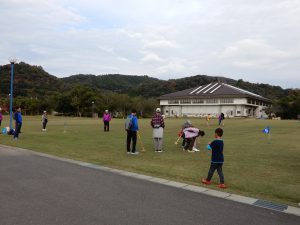 [Ground Golf was born in Yurihama-cho.  With simple rules and no special technique required, Ground Golf is enjoyed by children and adults alike and has spread to become a national sport enjoyed by three million enthusiasts across Japan.]
So, this is the birthplace!  All participants receive thorough instructions, making this accessible to even complete novices.  Everyone seems to be enjoying themselves.
But the gluttons among us (me) bypassed the games for…
That's right, this!!!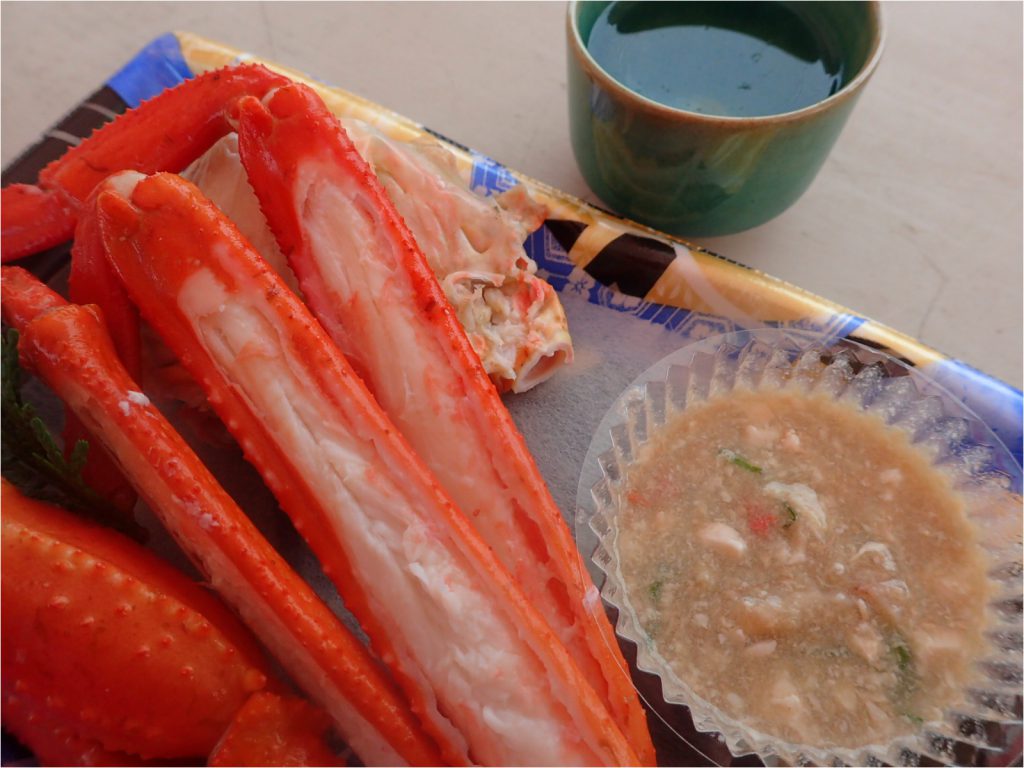 Ta-dahhh!  Wow!  This is indeed worthy of Tottori, crab lover's paradise!
"Tottori Welcome Kani" is a red snow crab with the taste of Tottori winter.  Best served by boiling, with miso to accentuate the extreme delights!
Amazing!  This has turned into a full-fledged feast.  Makes one feel like saying, okay, time to party!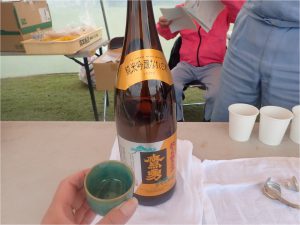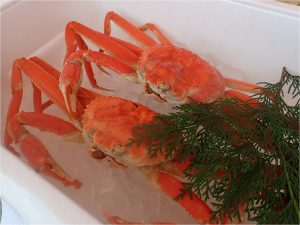 The sake on offer here is "Takaisami" made in the town of Kotoura.  Wait, one must not forget, we are in the middle of a walk.  Remembering adult's decorum, I imbibed only one gulp from a sake cup.  I'll take some crab home with me and enjoy a feast there.
We were starting to enter the final stages of the course.  Veering away from the lake, we came to the old-fashioned "Matsuzaki" shopping arcade.  This place has a distinctive retro feel.  A driving tour through this area would not be so memorable, with everything flying by.  But when on foot, you really take in the surroundings when, another pleasure of walking.
This district is famous for this: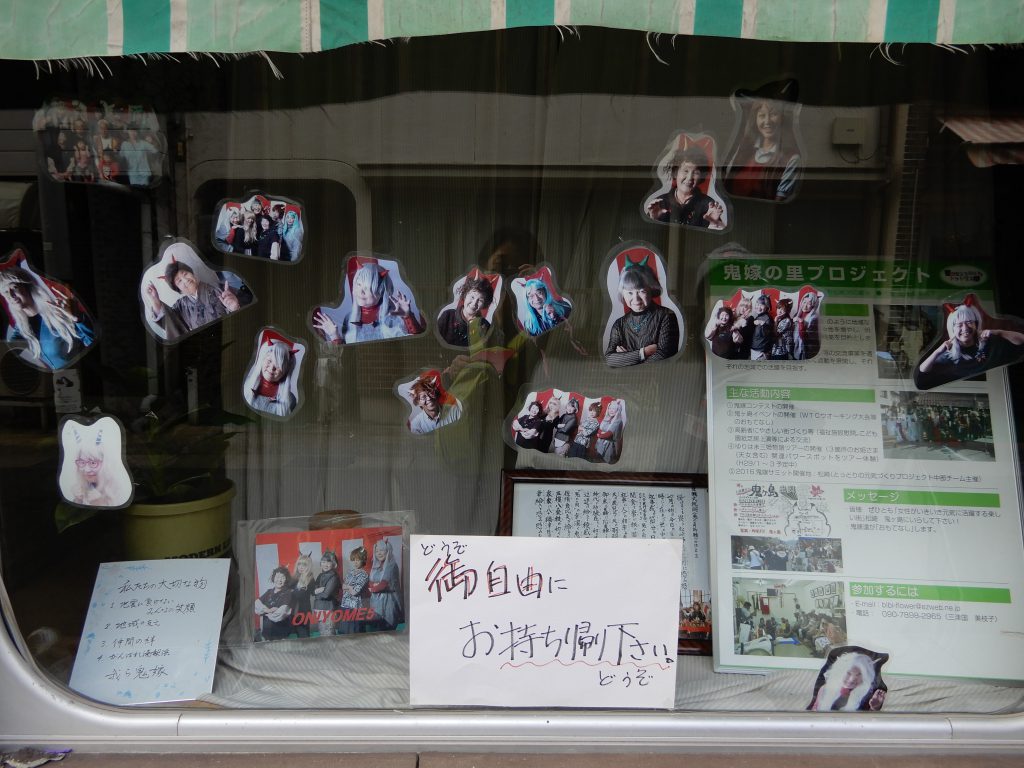 It might be hard to tell, but these are all pictures of oniyome (mean wives).
Husbands may wince at the word, but don't get the wrong idea: these oniyome are the kind mothers and women of the Matsuzaki district in Yurihama.  These ladies work to revitalize the town with a focus on the shopping arcade, and have been very helpful in this event as well!
Gastronomy Point @ Fukura Brewery
The Fukura Brewery is an old liquor store on the shopping arcade founded in the 22nd year of Meiji.  We enjoyed "San-in Togo," a sake made in Yurihama, around the festive storefront.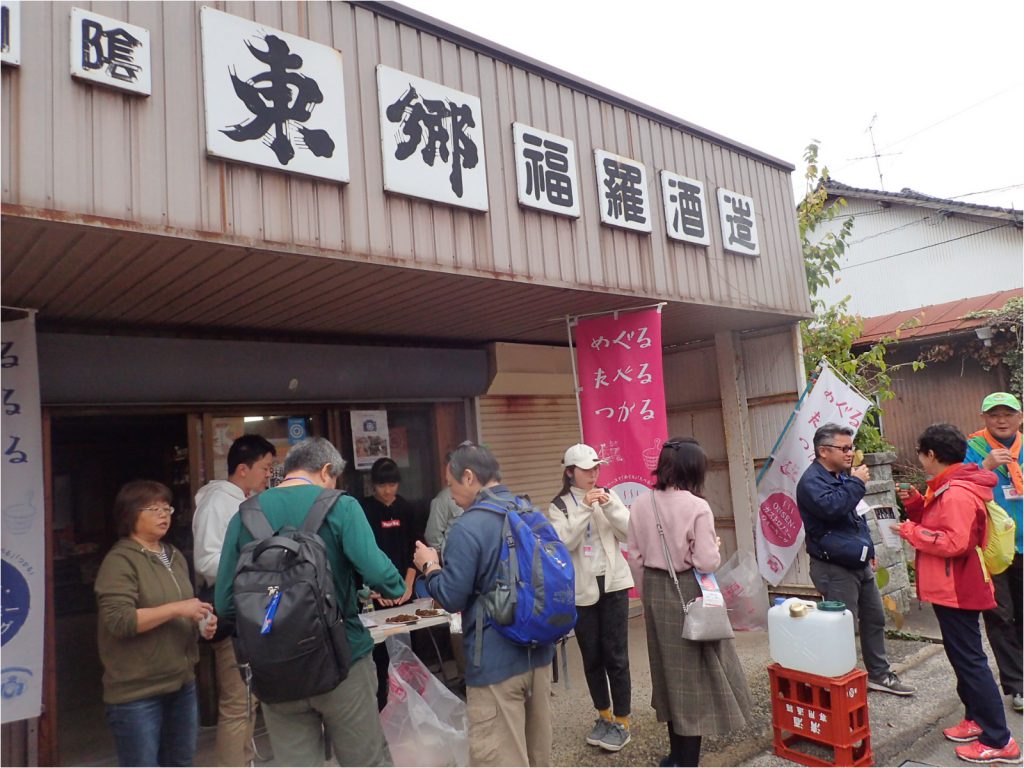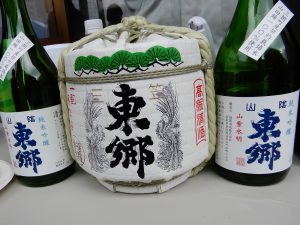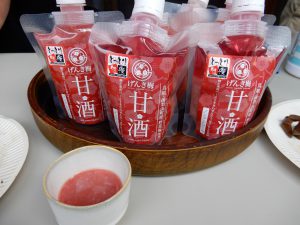 "Genki-ume Amazake" was available for those who don't drink sake.  Tasty in its own right, this sweet plum amazake combines 100% rice malt and "nokyo-ume" fruit pulp.  The rich crimson color is aesthetically pleasing, giving the sense that you're drinking strawberry juice.
We nibbled on "Tomari-tsuke" watermelon pickles to go with the sake.  After all, Tottori is famous for watermelons.  Won over by the taste, participants started buying the pickles to take home.
Hot sake, down the hatch.  Nibbling on pickles.  Lively chat with locals about the surrounding area.  What could be better?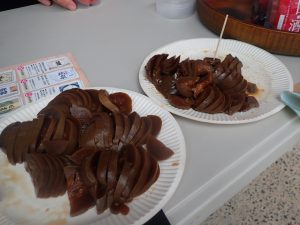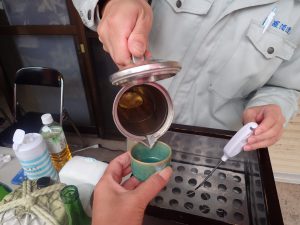 Gastronomy Point @ Yururinkan Community Center
The next activity point was just beyond the shopping arcade.
Here again we encountered extreme delectability!  On the menu was real "gyukotsu (beef bone) ramen."  The noodles were boiled and pork was roasted right in front of our eyes.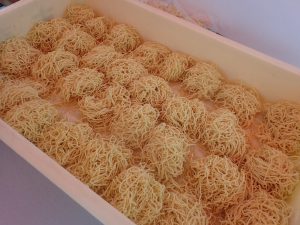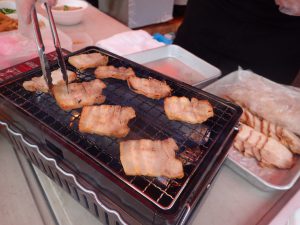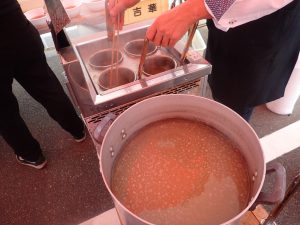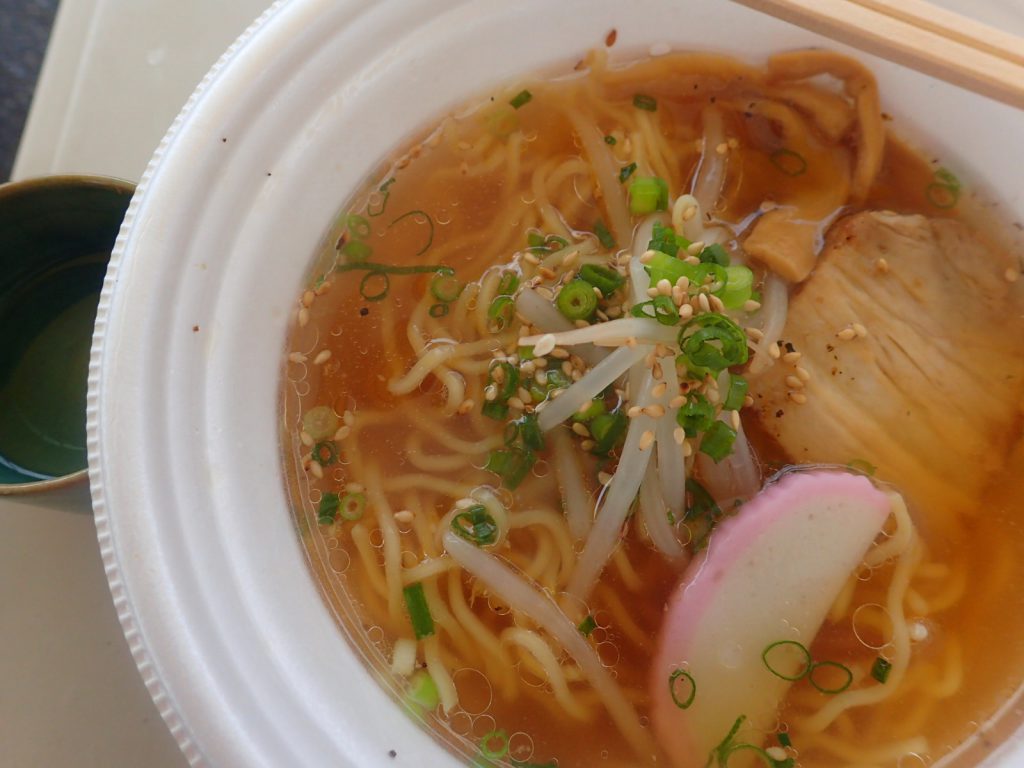 This was my first taste of gyukotsu ramen, a local specialty of central Tottori.  We learned that it's considered a soul fool of central Tottori.
A rich-flavored soup with a hint of sweetness, complemented perfectly by noodles.  So delicious that the temptation for a second helping is strong!  A bowl of ramen to close out the walking tour—wonderful.
And of course the sake was still flowing: on menu here is "Yashio" made in Kurayoshi.  The "ottotto (that's enough)" pouring game is also good fun.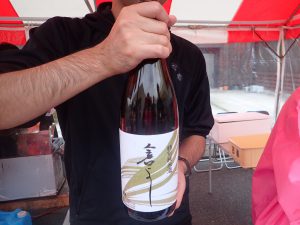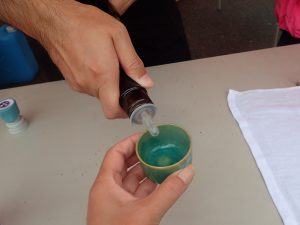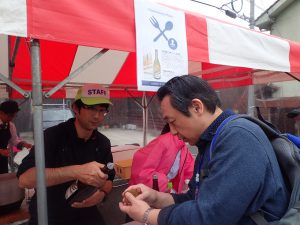 Oh, the satisfaction of a full tummy!  Time for the last spurt with sights set on the Chinese Garden Enchoen, the last stop on the course.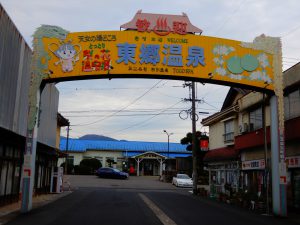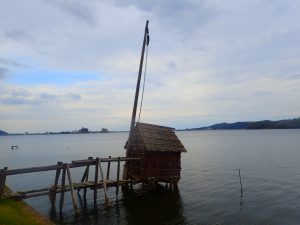 Goal @ Chinese Garden Enchoen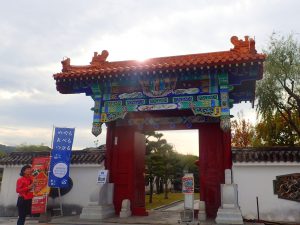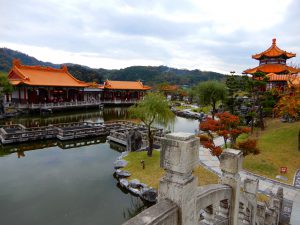 We made it!  The sense of achievement and satisfaction is palpable.
We first toured the gardens, free-of-charge for walk participants (normally paid entry).  Good value.
And there was surprise (unmentioned on the course menu) waiting for us at the goal sign:
"Grilled sazae (turban shells)"!  The piping hot, straight-off-the-grill sazae need to be blown on before consuming.
For dessert we enjoyed "nashi (pear)," a specialty of Tottori.  This new type of pear takes the "oushu-nashi" (a Chinese pear called "tsuurii") and "Twentieth century pears" hybrid and cross breeds with the "shinsetsu" pear.  The crisp sweetness and refreshing palate cleanser is perfect closure.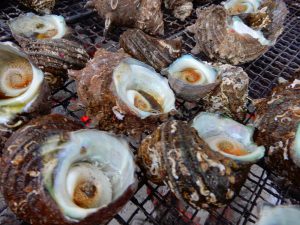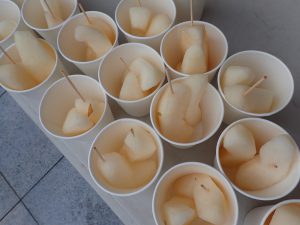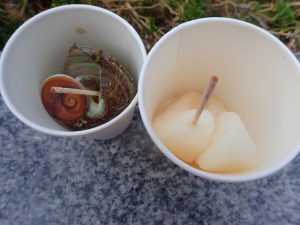 But the festivity continues even after reaching the goal.
Lovely gifts from ANA.  A collection of local Tottori sake for sampling.  We also received "Inaba no Shiro Usagi," a scrumptious Japanese sweet that is a specialty of the San'in Region.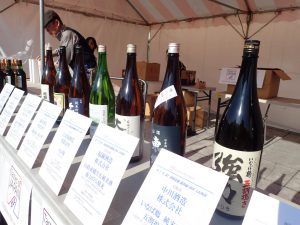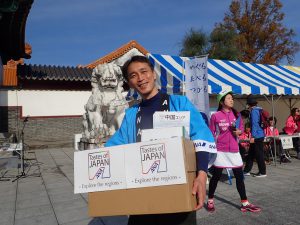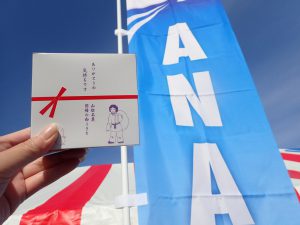 Tickets worth 300 yen were also passed out to use at a marché.  Everyone is buying up local Yurihama specialties as gifts.  And the "oniyome" are all smiles!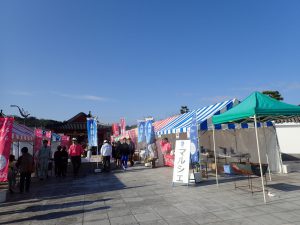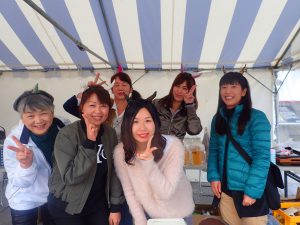 This has been a truly full and fantastic Onsen Gastronomy Walking tour.  A big thank you to the people of Yurihama.  This was a chance to rejuvenate both mind and body.
The last (last) stop was a long-awaited dip in the Hawai Onsen/Togo Onsen, the mysterious hot springs welling up from the bottom of the lake.  The distributed onsen tickets allow entry into one of the 10 options, so you choose the onsen of your choosing.  Hawai Onsen or Togo Onsen… an impossible decision.
It's so hard to choose just one of these top-notch spots.  I recommend staying overnight and taking a slow tour of them all!