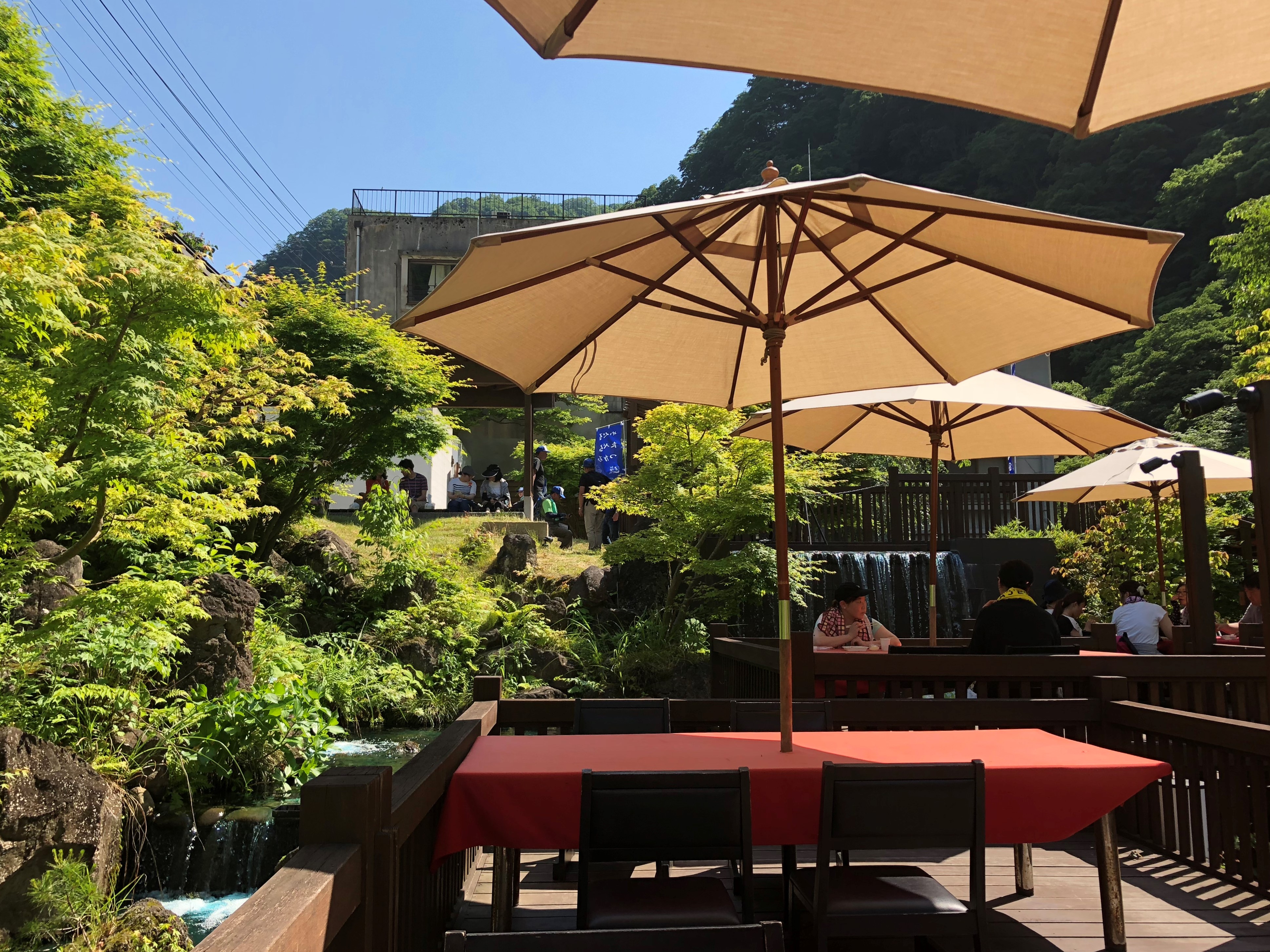 【The 2nd】ONSEN · Gastronomy Walking in Aizuwakamatsu
I participated in the first Gastronomy Walking event at Aizuwakamatsu.
The weather was perfect and I was excited to be joining my first onsen gastronomy walking tour, and, in fact, to be on my first trip to Fukushima Prefecture and Aizu-Wakamatsu. The venue was already buzzing and full of people. I reported to registration and received my stamp card, which doubled as an information pack, and an aizunuri traditional Aizu lacquerware ochoko saké cup.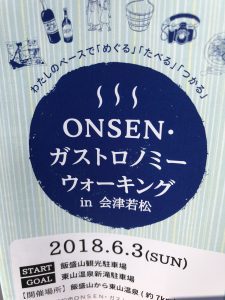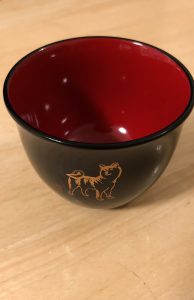 A short while later the opening ceremony was held to kick off the event. We were joined by a number of VIPs, including the mayor of Aizu-Wakamatsu, as well as the Aizu-Wakamatsu tourism ambassador Motoko Obayashi. She is a former professional volleyball player and Olympian who despite being born and raised in Tokyo, had fallen in love with the Aizu-Wakamatsu area.
After a "Kanpai" of local saké or amazake (a sweet, cloudy saké-like liquor) it was time to go! But first…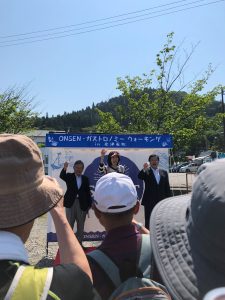 A Quick History Lesson
Aizu-Wakamatsu is located in what was once known as the Aizu domain. In the late 1860s, Aizu was caught up in the Boshin civil war. On one side were the Tokugawa shogunate and its loyalist supporters, who were trying to hold onto power, and on the other were imperial forces seeking to restore the emperor to political power. The war was part of the larger Meiji Restoration, an important event in Japanese history that shaped Japan as it is today.
A particularly famous episode associated with the Aizu forces and Aizu-Wakamatsu is that of 19 teenage samurai belonging to Aizu's Byakkotai, a military unit whose name translates as "White Tiger Corps," who took their own lives on Mt. Iimori, mistakenly believing that Aizu had been defeated. Aizu, on the loyalist side, did eventually lose the war, but the tragic tale of these young samurai is still remembered today, and monuments and other tributes can be found throughout Aizu-Wakamatsu.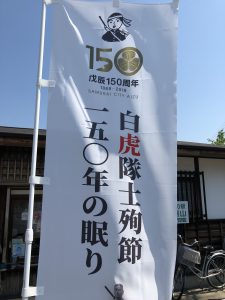 And a Word about the Cuisine
At seven Gastronomy Points we were served dishes showcasing local ingredients prepared by Chef Hiromi Yamagiwa, resident in Aizuwakamatsu City. He has the highest title in French cuisine, "Disciples Auguste Escoffier."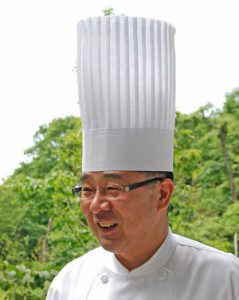 Mt. Iimori
Our first destination was Mt. Iimori. In addition to being where the young Byakkotai samurai took their lives and are now entombed, it is also home to Sazaedo, a pagoda and Japanese national heritage site with a unique double-helix structure.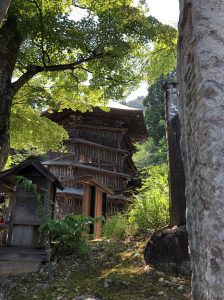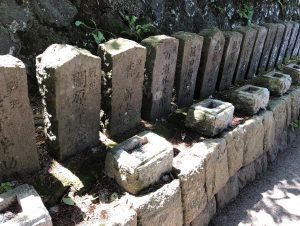 Mt. Iimori was also hosting the first of seven Gastronomy Points where we were served dishes showcasing local ingredients, as well as local saké and wine or non-alcoholic beverages. (There was so much food for us I ended up wishing I had skipped breakfast.) Gastronomy-point 1 was at Iimori Bunten, a rest area with food and souvenirs. Here we were served a light and nutritious bowl of chicken soup, filled with locally-grown vegetables and free-range Aizu chicken.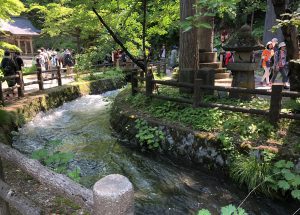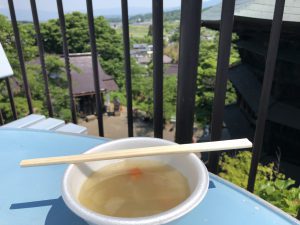 Ancient Dream Avenue
The next stretch of the journey took place on the fantastically-named Inishie Yume Kaido – Ancient Dream Avenue in English – with a few small layovers along the way.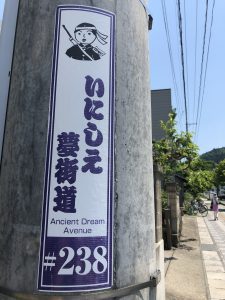 The first of these was Gastronomy-point 2 at Yamaga, a seller of local specialty products with an outdoor seating area located along the avenue. The second dish of the day was a small helping of sauce katsudon – deep-fried breaded pork cutlet, fried egg and onions coated in a sweet and slightly sour soy sauce and served on a bowl of steaming Aizu rice. A much-needed, mid-morning stamina booster.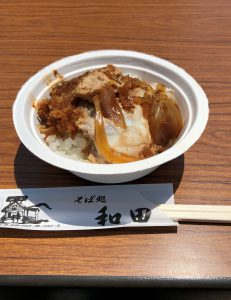 Dairyuji Temple
Next was Dairyuji, a Buddhist temple located a short way up the hill off Ancient Dream Avenue. As I arrived, I was offered some umeboshi, which are pickled Japanese plums (or apricots depending on who you ask), that had been made by the wife of the head priest. The Japanese believe that umeboshi can fend off heat stroke so they were perfect for this hot summer's day.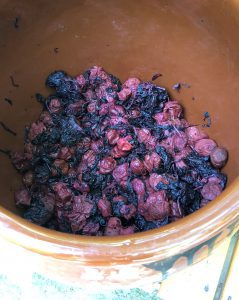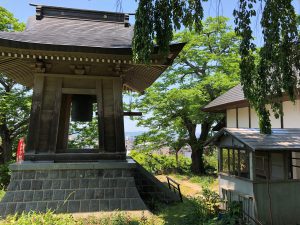 Dairyuji was also the site of Gastronomy-point 3. After getting my card stamped, I picked up a helping of pickled Aizu vegetable sticks with a locally-made miso paste for dip. As I munched them down, I took in my surroundings and marveled at the tranquility of the temple grounds. Other than the sound of someone in the distance gently striking a wooden block used for Buddhist rituals, there was total peace and quiet. I also checked out the bird cage, which housed a number of peacocks, including a splendid snow-white one, before setting off again.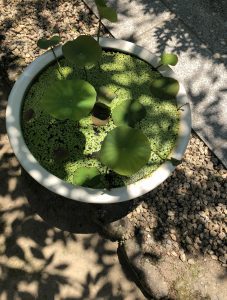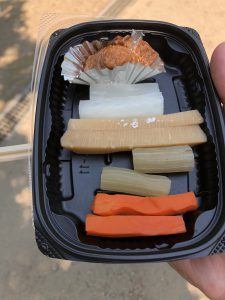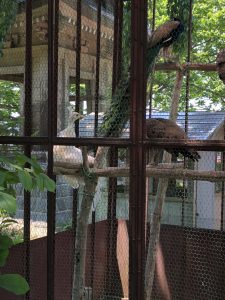 Atagoyama Park
Still up on the hill, I arrived at Atagoyama Park and Gastronomy-point 4 a little before noon. Several treats awaited me: bacon-wrapped Aizu asparagus, sweet asparagus juice, the traditional rural Fukushiman dish of tofu and mochi pounded rice cake, and an assortment of local sakés to pick from. The mochi was being freshly made by a pair of locals right there in the park.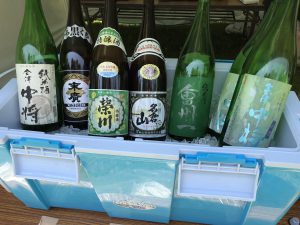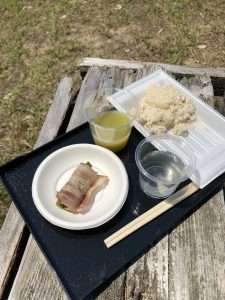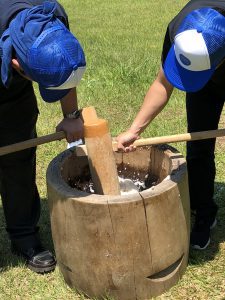 Over lunch, I filled out a questionnaire from the local government and was rewarded with a bag of local goodies, including a pack of Aizu rice. Before moving on I snapped a few pictures of a large wooden akabeko. The akabeko is supposedly a legendary red cow from the Aizu region. It has since inspired traditional toys and become a bringer of good luck and a symbol of the region.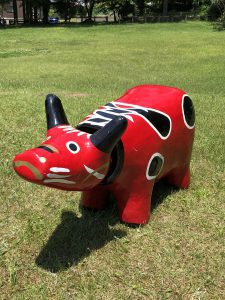 Aizu Samurai Residence
From Atagoyama Park, I made my way down a wooded path before emerging back onto Ancient Dream Avenue. A little further along the avenue I arrived at Aizu Bukeyashiki, the former residence of the head samurai family in the region and our fifth Gastronomy-point of the day. The relief package here contained kozuyu, a scallop broth with noodles and various mushrooms and veggies, ajibukashi, a rustic rice dish also containing a variety of vegetables, and discount coupons for the residence and the gift shop.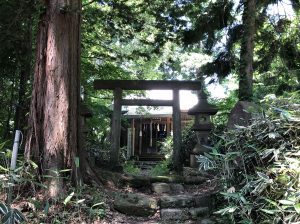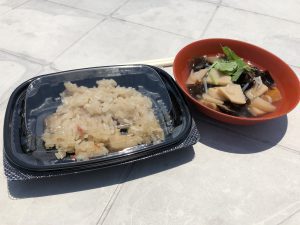 After recharging myself with these lovely local dishes, I took a leisurely stroll through the beautifully-preserved samurai residence and then popped into the gift shop where I bought a pair of snazzy red akabeko socks.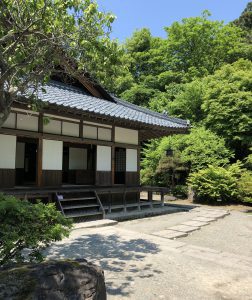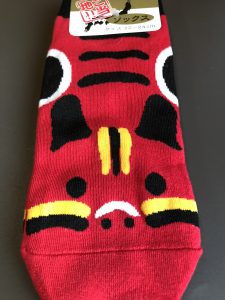 Matsudaira Family Tombs
It was now time for the toughest (though still very manageable) part of the walking tour – up a mountain path to the grave site of the Matsudaira family, the one-time rulers of the Aizu domain. Nine generations of the Matsudaira family were enshrined in this national historic site from over the course of the 17th to 19th centuries. The walk was a little harder, but the forested surroundings made it very pleasant and also offered some respite from the sun.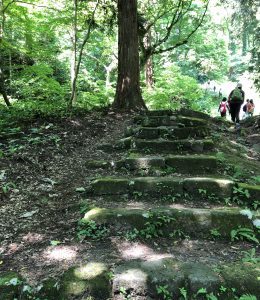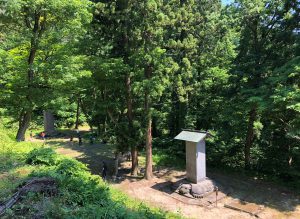 Higashiyama Onsen
After exploring the extensive grave site, I slowly made my way back down the mountain and headed for my next destination, Higashiyama Onsen, and the last two Gastronomy Points.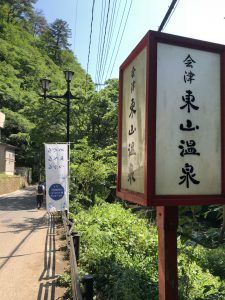 Gastronomy-point 6 was at Kawadoko, an outdoor restaurant run by Hotel Harataki. The setting and décor were really rather striking – tables covered in bright red cloths and adorned with minimalist beige parasols on a wooden deck, with a manmade fountain and stream on one side, a roaring river on the other, and greenery all around. There was also a foot bath overlooking the restaurant where you could rest your weary legs and take in the entire scene.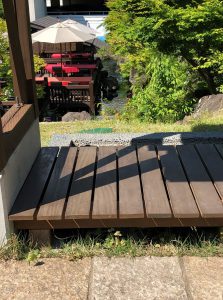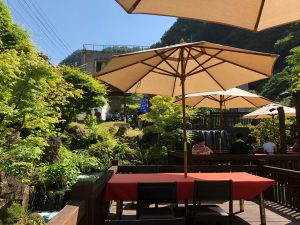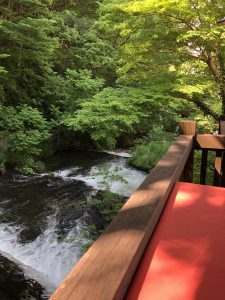 Here we were served succulent Fukushima roast beef with a special rich dipping sauce, a scoop of sweet and refreshing cabbage ice cream, and either local white wine, red wine or saké. (The local red was especially popular and had run out by the time I arrived.) After a short rest and a little soak in the foot bath, it was time to head for the finish line.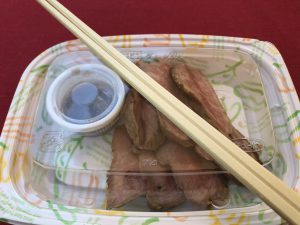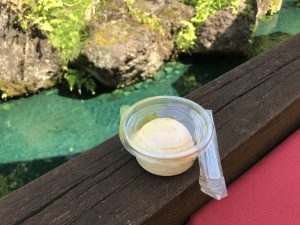 Our seventh and final Gastronomy Point  was the outdoor area by Shintaki, a traditional Japanese ryokan inn. After about 15,000 steps and the equivalent of 40 flights climbed according to my phone, I had made it. A surprise Higashiyama Geigi traditional song and dance performance awaited us.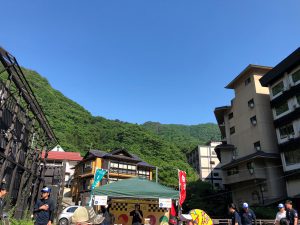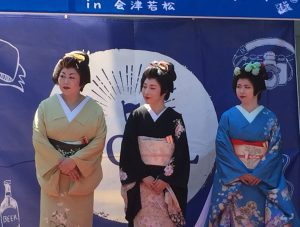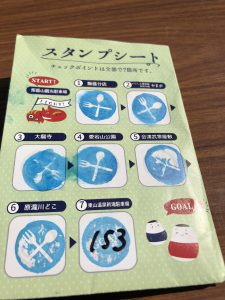 I then picked up my final and largest gastronomy set of the day containing an onigiri rice ball, a selection of three local delicacies, fried chicken skin with a pear and persimmon dipping sauce, hot soup, cold herbal tea, and my choice of beer, sparkling saké or amazake – more than enough to replenish my energy.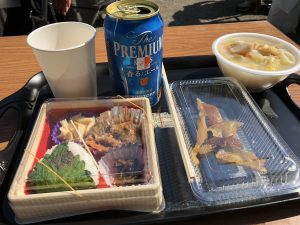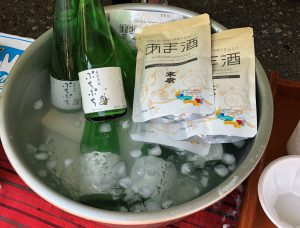 The fun wasn't over yet however. There was still another foot bath to enjoy and several hotel or ryokan baths to choose from. The hotel and ryokan baths were not free, but there were discount tickets available for anyone willing to fill out a questionnaire. These could be used at any of the local establishments or at Ashinomaki Onsen, about 15-20 km away. Once I had soaked away all my troubles, I took the free shuttle bus back to Aizu-Wakamatsu Station, thoroughly satisfied with a wonderful day.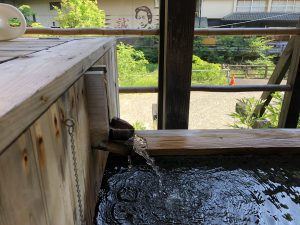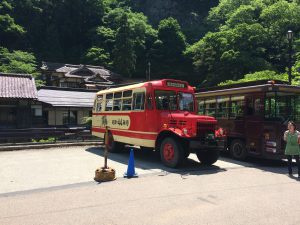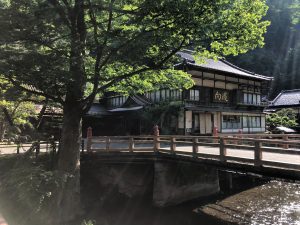 A Note for Non-Japanese-Speakers
The event was primarily held in Japanese. I live in Japan and speak Japanese so I felt no language or culture barrier. That said, I'm sure anyone could have enjoyed this walking tour regardless of whether they speak Japanese or not. After all, you don't need to speak Japanese to enjoy great food and drink, beautiful scenery and impressive history and culture. In addition, there were several volunteer guides who spoke good English, and many well-translated signs throughout explaining the more complicated historical and cultural artefacts. There were also signs and flags everywhere to make sure no one got lost.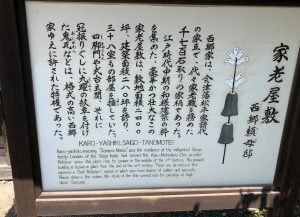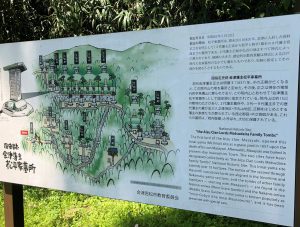 Reported by Alex Meyer, Urban Connections