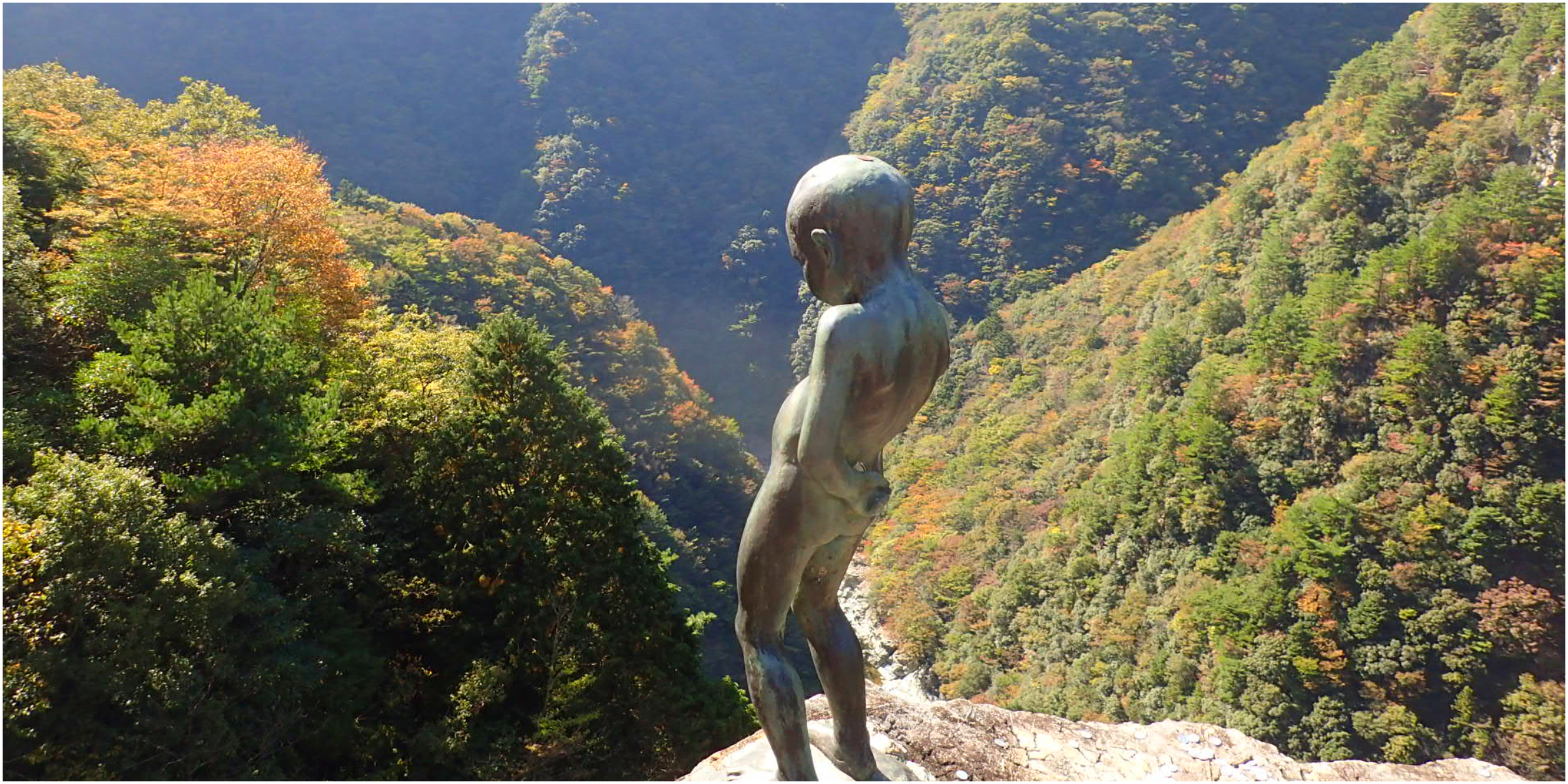 ONSEN · Gastronomy Walking in Oboke-Iya ONSEN
The inaugural Oboke-Iya hot spring Walking Tour took place on 29th October, 2017.
This was the first time for an ONSEN Gastronomy Walking Tour to visit Tokushima prefecture, Shikoku. Last year, it was cancelled the day before departure due to an unseasonable Typhoon. This year though, we took our revenge and were blessed with perfect weather for the trip.
The course is a revival of the Oboke-Iya Hot Spring resorts' "Healing Health Walk" into an "ON-Gas" walking tour. Surprisingly, it is a long course with a total distance of 18 kilometres.
For those of you who immediately think that "I can't walk that much!" there are some upsides. On this "ON-Gas" walk you can enjoy delicious food at various locales whilst enjoying the fresh autumn air of the Iya Valley – replete with superb vistas made even more famous by the Michelin Green Guide.
As there is no direct access by car to the starting point at Kyoda, we need to catch a shuttle bus. Buses depart from Oboke JR Rail Station and west (nishi) Iya Kazura Bridge (Kazurabashi) parking lot.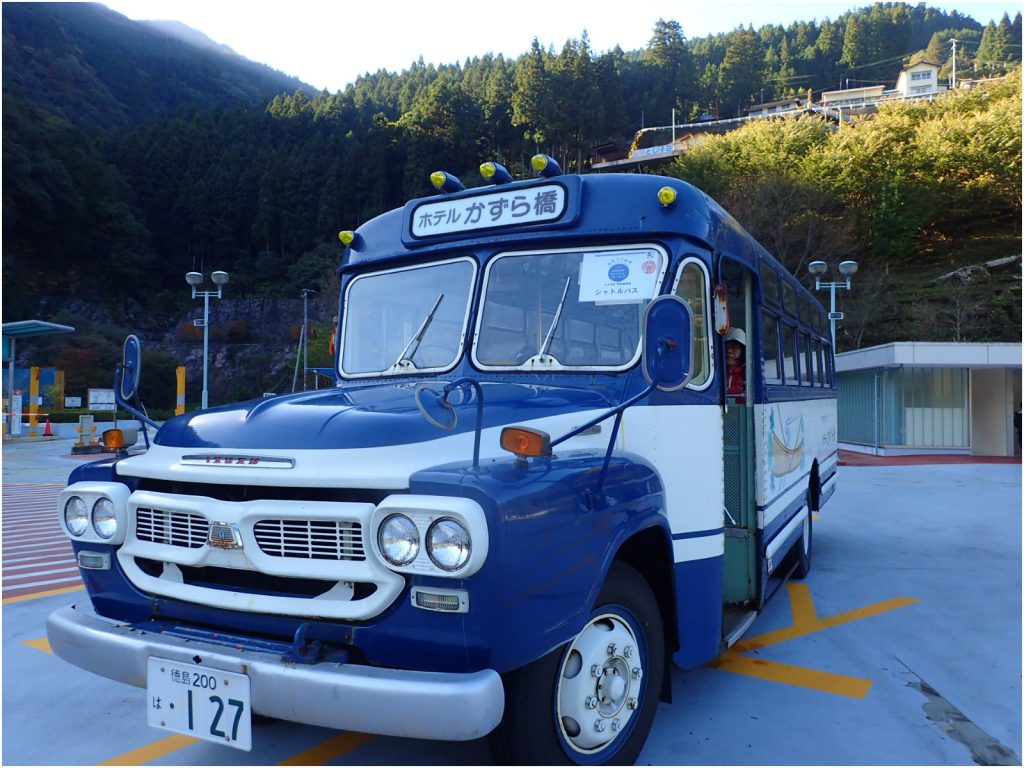 We got on a fully retro 1962 "bonnet bus" from Hotel Kazurabashi.  Nicknamed "Twenty-One", it is like a big ol' red school bus – very very cute.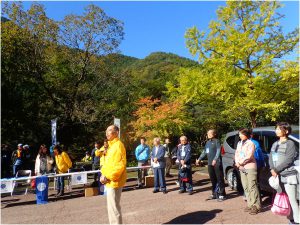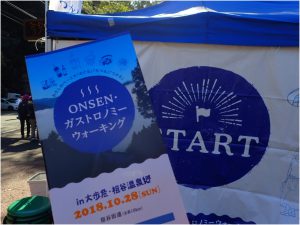 Gastronomy Point #1 – Midorino Ichirizuka Kyoden
First off – the Opening Ceremony! Let's start the walk with high spirits!
I'm so happy to be the first one to try the tasty offerings.
Pictured is the local specialty – "dekomawashi".  Made of dengaku (a miso-glazed tofu dish), skewered on a bamboo skewer and grilled over charcoal, other common ingredients include: sweet potatoes, and konnyaku – a jelly made from yam roots.
The ingredients are cooked while spinning the skewers over the flames. It is called "Deko-ma-washi" because the shape is similar to a traditional Japanese doll puppet. Such a cute shape! The faint smell of garlic whets our appetite.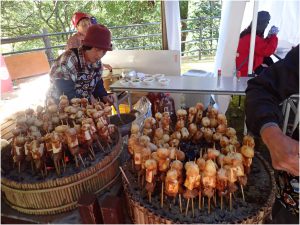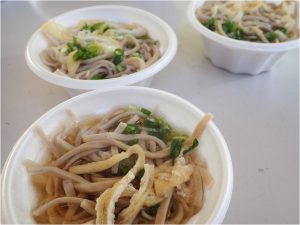 The "Dekomawashi" is being served by the local mothers alongside Iya-valley style Soba.
Iya Soba is characterized by thick and short noodles and has a simple taste. It is a quick shot of energy before the start!
We got the best conditions to start the walk – clear, blue skies.
There was a send-off with "ningyo joruri", traditional Japanese puppet performing arts, along the street.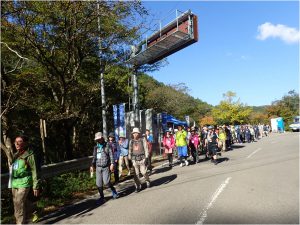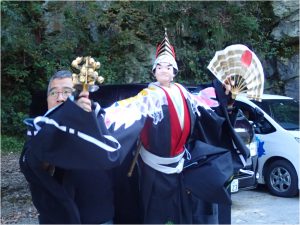 As I walked, I saw a sign: "7 kilometres to Iya Gorge observation deck" – our next waypoint.  A long, long way to our final goal…
Go go go! Unlike other Gastonomy-Onsen tours we will walk a lot today.
I watch as a participating father walks by, carrying a baby on his back. Go Daddy go!!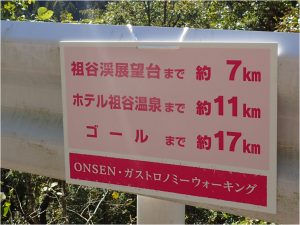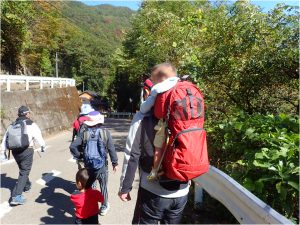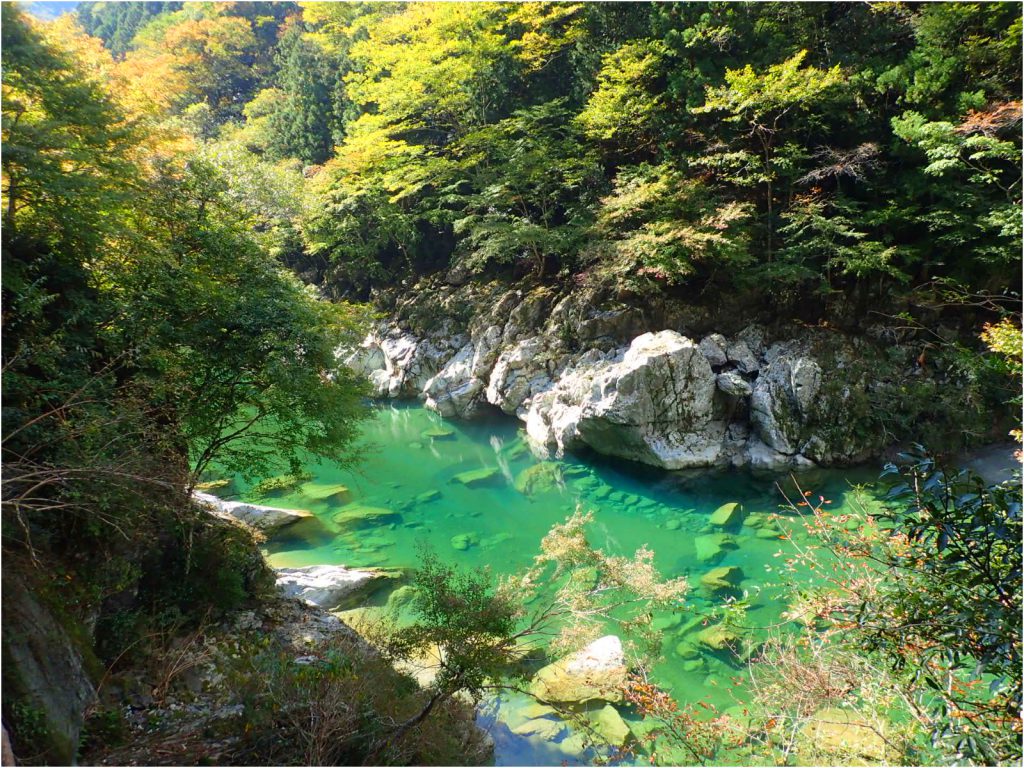 A group of people are chatting with one another while looking at beautiful Iya Gorge. Some other people are absorbed in taking pictures and everyone is enjoying the walk. When you chat whilst strolling with such beautiful surrounds it feels like the conversation flows more freely than usual. It soothes my mind and refreshes my body.
I was thinking of taking a break but… up ahead… there's a crowd. Ningyo Joruri – the musical puppet show welcomes us.
It looks like we've arrived at our next Gastronomy Location!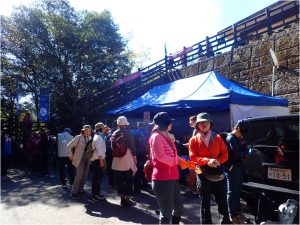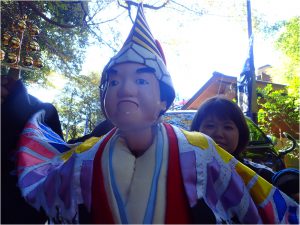 Gastronomy Point #2 – Iya Gorge Observatory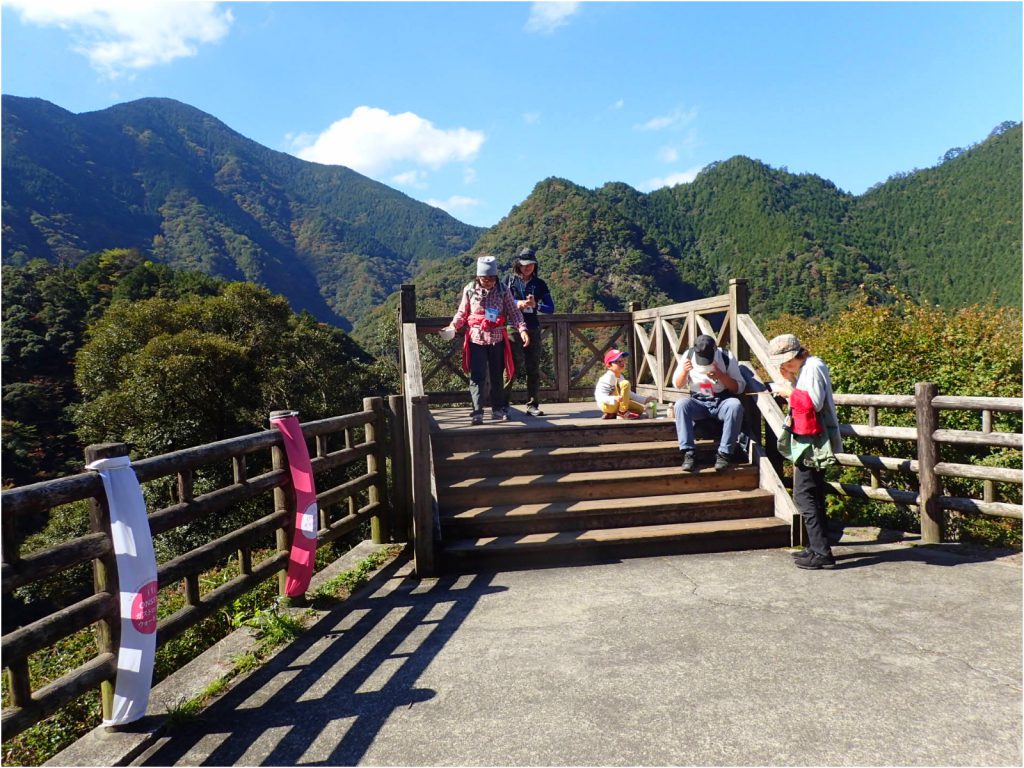 We did it! We've arrived at our next destination. We're already over a third through our journey.
"It's such a great day! What a beautiful view!" I want to yell into the Gorge's ravine. Well, to be honest, I can't wait to try the next meal.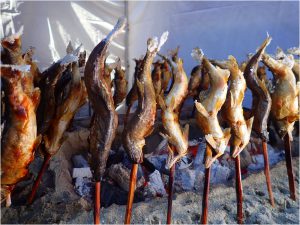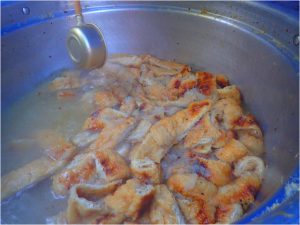 "These are the best!" The salted "sweet fish", freshly charcoal-grilled in front of me look so delectable with such vibrant colours.
I try "unkai shigure" hot pot (Nabe) for the first time.
Unkai shigure "Nabe" is a famous, double deep-fried Tofu (abura-age) with simmered, grated radish in a hot pot.
Oops! I bit into the sweet fish before taking a picture for the story.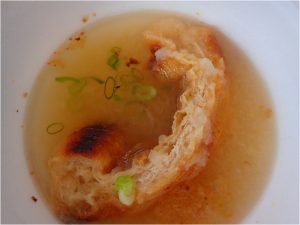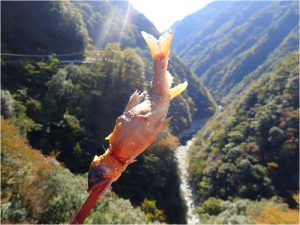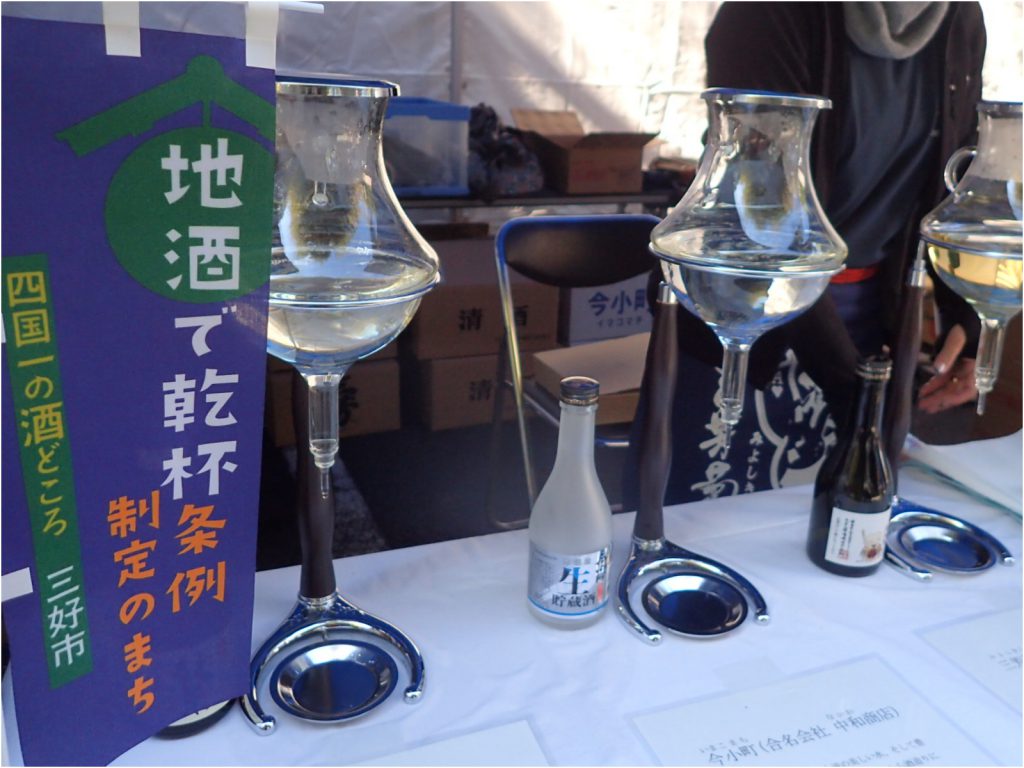 With delicious food comes delicious alcohol…
Let's compare the local varieties of Sake! What? Apparently, this town has a "toasting regulation" relating to the use of local Sake.
I see – Miyoshi City is definitely the best place for Sake in Shikoku.  Now it makes sense.
For now, we have to keep going though, as there's still more than half of the route to go.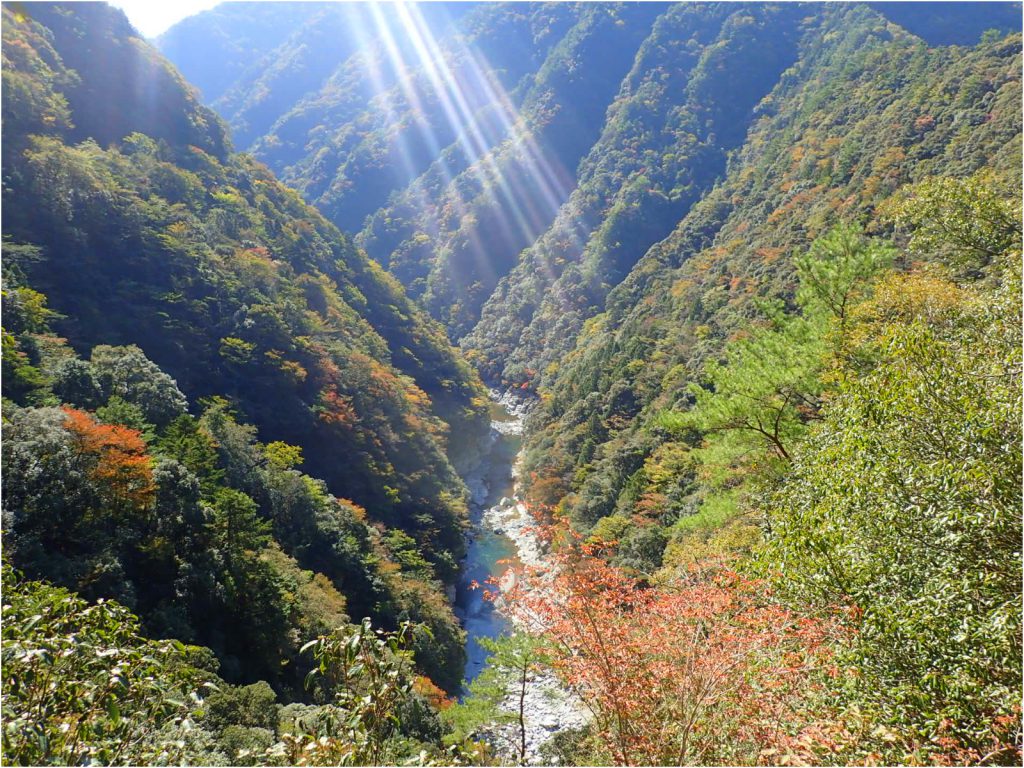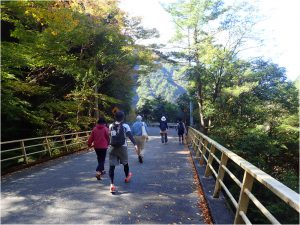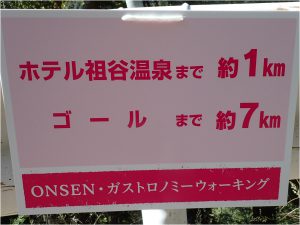 We've just commenced the second half of the course and everyone is still walking briskly. It's still 1 kilometre to the next Gastronomy location when we arrive at the biggest attraction in the Iya Gorge – the "Manikin peeing boy statue".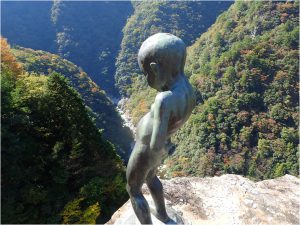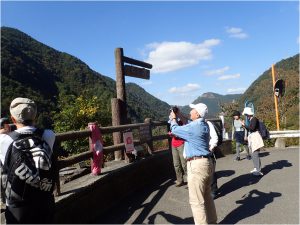 We take many pictures but it takes a lot of courage to get a good shot of this statue on this rocky cliff – with a 200 metre drop below!
The local folklore states that travellers used to test their courage and pee from this precarious escarpment. Despite a terrible fear of heights, I still did my best to take pictures of this spot.
Gastronomy Point #3 – Hotel Iya Onsen
We finally arrive at the third Gastronomy Location, Hotel Iya Onsen, while still suffering from cold sweats and goose bumps over the previous stop.
Hotel Iya Onsen is renowned for its open-air baths with hot spring water, straight from a mountain source.
First things first – let's sample the delicious cuisine. The hot spring can wait.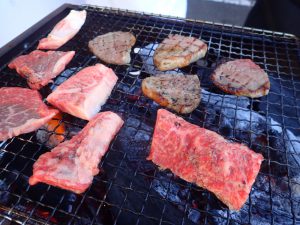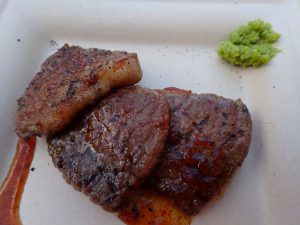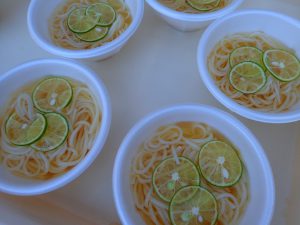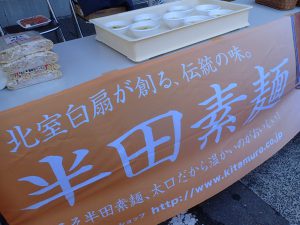 We tried some of the nationally famous "Handa Somen noodles", made from the clear waters of the Yoshino River and premium local wheat.
Handa Somen noodles are the best – thick and chewy! The noodle broth is clear. Usually the noodles are served with aromatic Kabosu citrus (similar to Yuzu) on top.
Next up – tasty "yakiniku Wagyu beef".
This succulent, sweet tasting meat is sourced from Tanifuji Farm, located nearby in Tokushima prefecture.
I thank the staff for their lovely meal. I am so full – everything was delicious!
Now comes the final challenge over the home-stretch.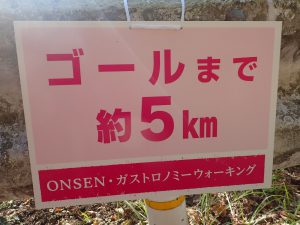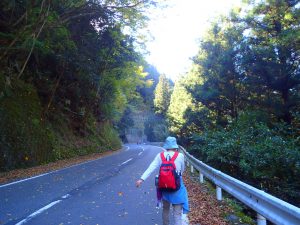 It seems like everyone has "picked up the pace" for this final leg of the journey.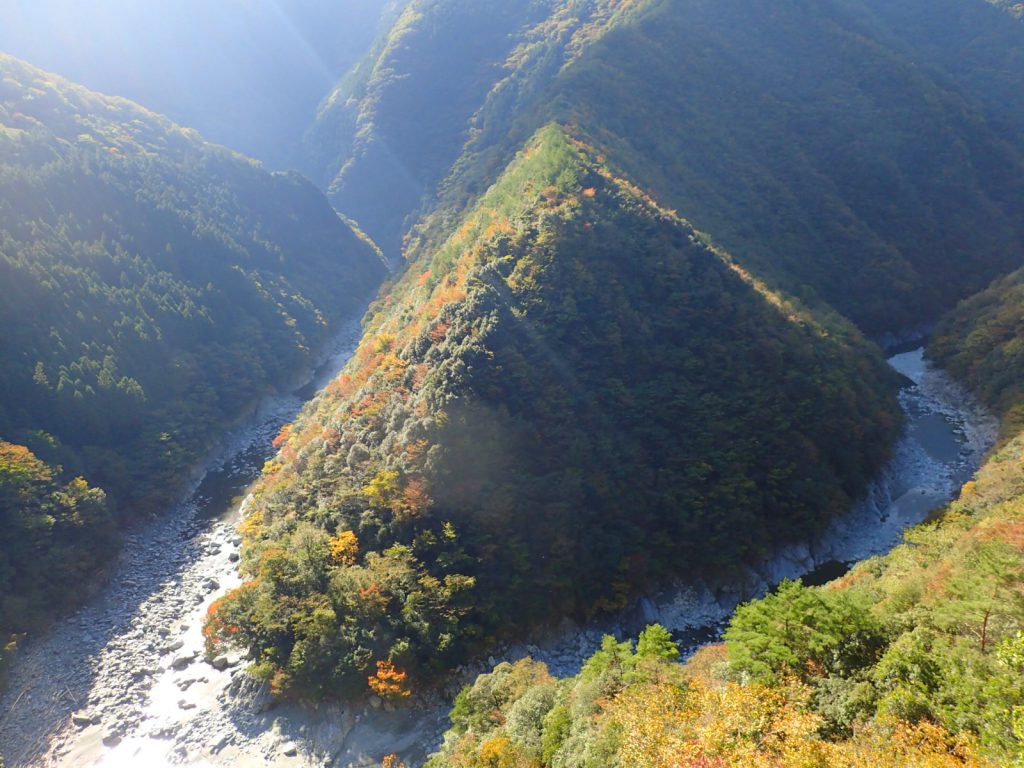 The next viewpoint is of "Hinoji gorge". The meandering shape of the Iya River resembles a smile. The natural beauty of the gorge certainly has us smiling!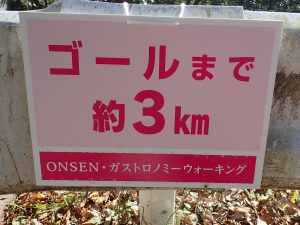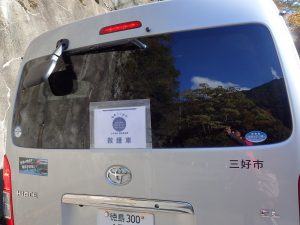 Almost there – only "3 kilometres to go"!
I was feeling happy when I saw this sign and then a car drove through…
"Oh, a First Aid car?" I thought to myself.
OK, it makes sense. This route is quite substantial at 18 kilometres in length. It was comforting to know that First Aid services were available if needed.
Unfortunately for us, we won't be passengers on this vehicle today….
Part of me was thinking of feigning injury or misfortune, but "tsk tsk"…
We have walked this far.  Let's walk to the end!
Gastronomy Point #4 (Goal) – Iya Fureai Park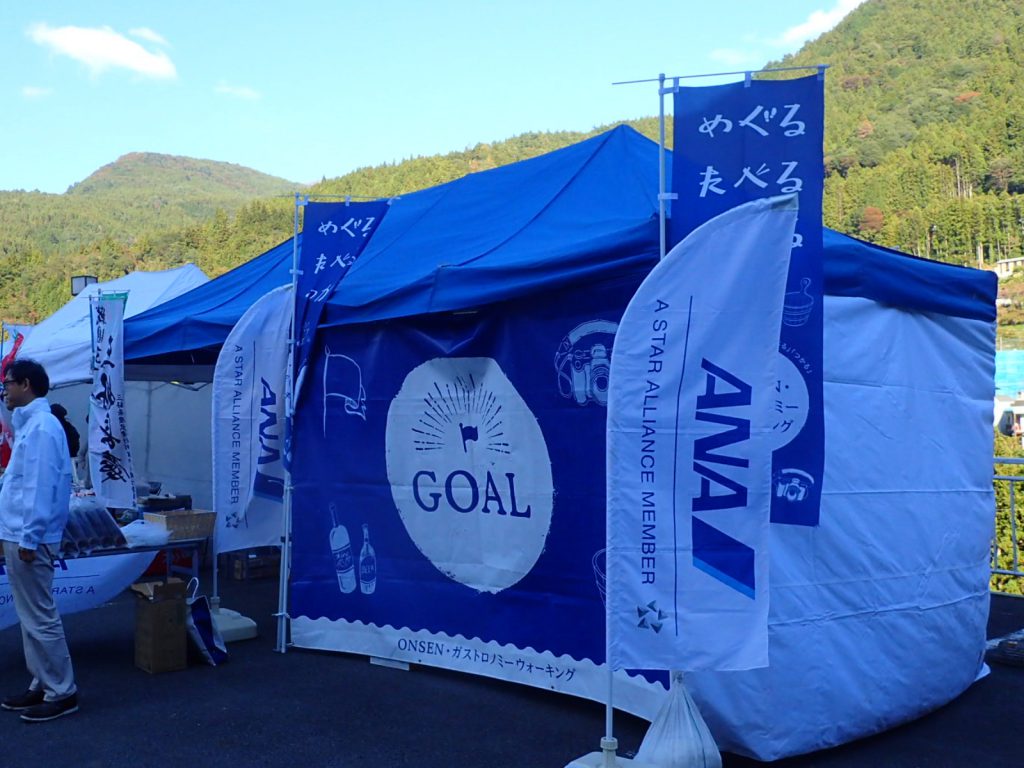 We made it! I am elated to finally arrive at the end of the tour.
We all gave our best – having walked a whole 18 kilometres.
Finally, we can reward ourselves – with a delicious desert.  We have all laboured so tirelessly.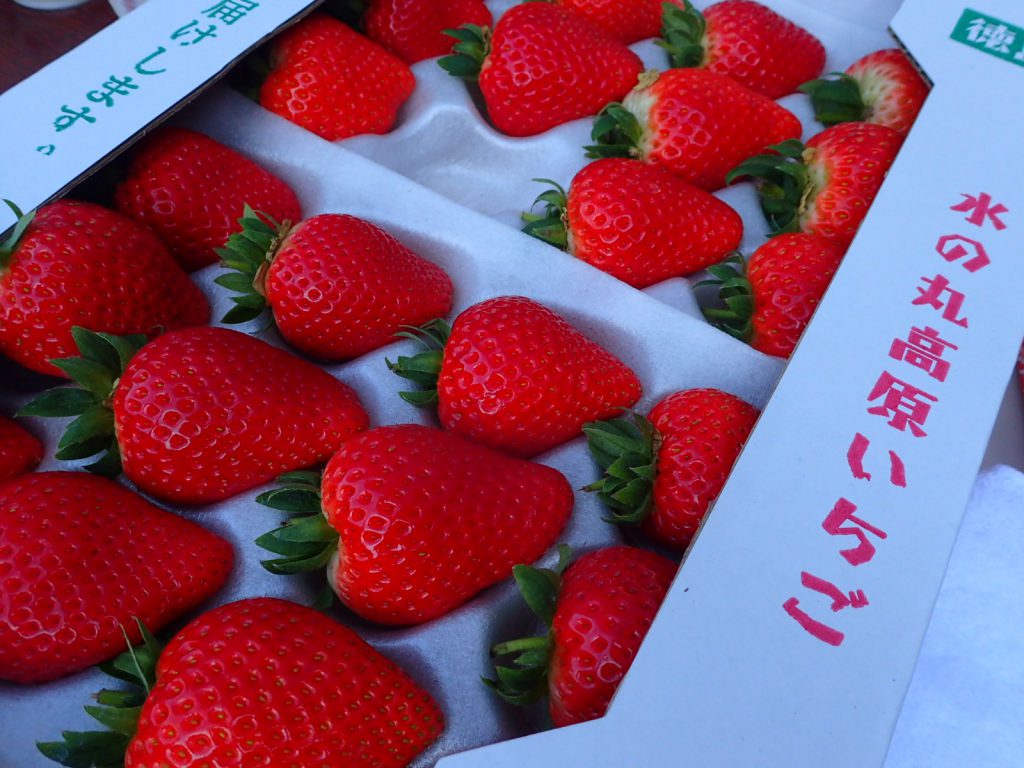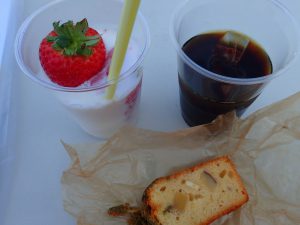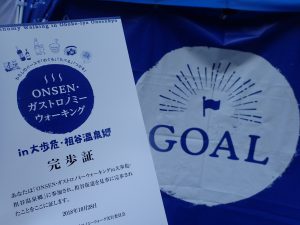 The best combination – sweet, bright red strawberries.
These strawberries are delicious and go perfectly with homemade cake and coffee.
It's nice to replenish our energy with sweets after walking such a distance.
We're rewarded with a certificate to confirm we completed the 18 kilometre tour.  It's a great accomplishment and we're all happy to receive the certificate.
Well, the best part of a Gastronomy-Onsen Walk is at the finish – that is, at an Onsen. ♪♪
On offer in Oboke Village, is an assortment of five hot spring Inns to choose from.
Such a luxurient day today: walking through nature, eating delicious food and finally – relaxing in an Onsen.
Oboke is full of so many places that I still want to see.  I need to come back.
We have come so far on this tour, it is a shame to return home.
Then again, we could always stay at a hotel and enjoy another day in Oboke, Iya.